By Betty Taylor / New Braunfels Herald-Zeitung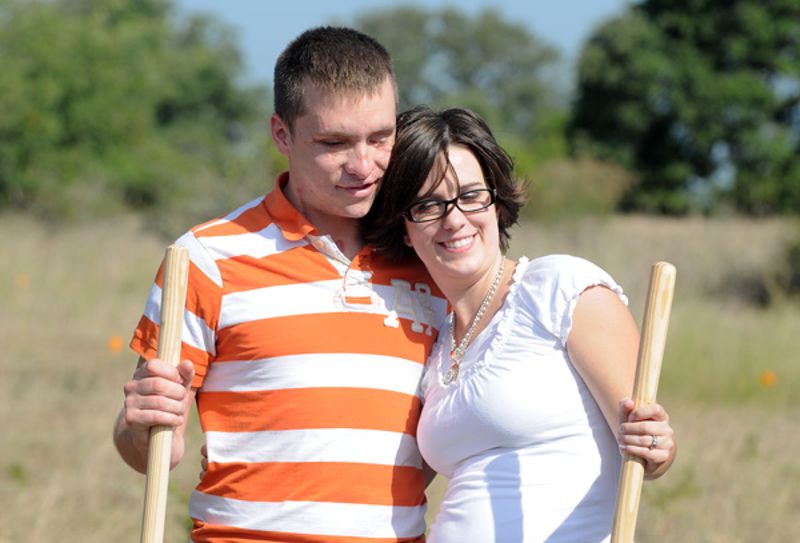 NEW BRAUNFELS —Thursday morning just outside of New Braunfels, U.S. Air Force Senior Airman Michael Malarsie and wife Jesse walked through their Hill Country lot after breaking ground on their new home. Their children — 3-year-old Kadence Lengstorf, and her half sister, Sophia Malarsie, 16 months — played on a large boulder.
As a breeze brushed through the oak trees and a nearby windmill slowly turned, builder Johnathan White of Tilson Home Corporation explained where the garage would sit on the lot, which measures just over an acre.
The custom-built, four-bedroom house will include a music room for Michael and a photography room for Jesse. The couple is expecting a third child Jan. 24, about the same time construction on their new house will be completed.
Like any young family, the Malarsies are excited about the future. But Jesse said she doesn't always feel like she connects with other young married couples her age, sometimes feeling beyond her age.
"We've been through so much," she said.
Michael is blind. On Thursday, his guide dog, Xxon, and Jesse, helped him navigate cacti and rocks.
Michael was west of Kandahar Province in Afghanistan on Jan. 3, 2010, with Jesse's first husband, Joshua Lengstorf.
"My (late) husband stepped on the IED (Improvised Explosive Device) that blinded Michael," Jesse said.
Operation Finally Home helps wounded and disabled veterans and widows of the fallen by providing the homes and helping them transition from military to civilian life. At 10 a.m. Thursday, it celebrated the groundbreaking of a custom-built, mortgage-free home for the Malarsie family on their lot at the Vintage Oaks at the Vineyard.
It's the second home the non-profit organization has provided to honor a wounded veteran in the same subdivision, having earlier done so for Senior Airman Colton Read.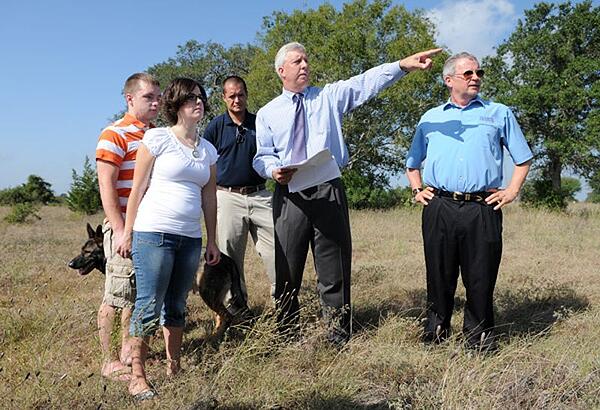 "We are still kind of overwhelmed," Michael told the crowd. "More people are involved in this than we were even aware of. This has changed our lives."
Michael said he remembered crossing a bridge that fateful day in 2010. "Everything went black ... Then, I was under the bridge. Someone dragged me out and the Army medic tended to me," he said, adding that he also remembered being buckled into a Black Hawk helicopter that whisked him away for treatment.
Michael said his injuries were life-changing, but not in the way most people would think.
"It changed my priorities. I had no lasting brain injuries. I'm blind, but four of my friends are not coming home at all," he said. "Being blind is not as bad as people think. I visit places I never would have visited. I recently went off the high dive, and it was more exciting."
While Michael was recovering, his family started a blog. Jesse began to read it.
"I decided to visit him at the Palo Alto VA Center in California," she said.
On June 25, 2010, the two married. Their plans for their new home include a flagpole. They plan to fly the American flag and a Gold Star flag for Josh.
Jesse said their plans for the future include concentrating on working with non-profits and giving back to the community.
"Having a home will allow us to focus on that. We won't have to focus on our needs so much," she said, adding that Michael planned on medically retiring in January.
Operation Finally Home was founded in 2005.
"This is our fourth house in this area. We also provided a house at Canyon Lake and one at Salado," said Daniel Vargas, the organization's executive director. "It is our 43rd house nationwide."
Vargas said the program has "just exploded."
"We have raised $2.5 million, but we have built $12 million worth of homes," he said.
Pat Mayo, sales manager for Tilson Home Corporation in Boerne, said both of his parents served in the military, and that it was a blessing to "give a little bit back."
Michael said what really makes the house special are the two extra rooms – the music room and photography room.
"I play guitar, banjo, drums and a little bit of violin. I'm not great, but I'm getting better," he said.
"And the photography room will be like a studio, with some editing equipment in it for Jesse."
As everyone grabbed their shovels for the groundbreaking Thursday, Cole Haley, regional sales director with Vintage Oaks, told the Malarsie family:
"Welcome to the neighborhood ...We thank you for your service."
Click here to read the original article.