Newsletter
Harvest Edition 2016
Last Remaining Homesites on the Western Side of Vintage Oaks
We are in the final lots EVER available on the picturesque and private western side of the community. Dramatic topography, long Hill Country views, Timber Ridge Park, and ancient oaks are still available but this area is almost sold out.
Email cole@vintageoakstexas.com to request pricing and availability of homesites in Deer Creek and The Reserve.
---
Latest Development News: The Grove
If you've seen the activity along Highway 46 to the eastern side of Vintage Oaks, you're seeing the first activity in The Grove, a new neighborhood within Vintage Oaks. The Grove is planned as a new home community for active adults seeking a quality home on a smaller lot. Watch VintageOaksTexas.com and these newsletters for more information.
---
SouthStar Communities Donates Land for New Fire and EMS Station
Comal County will be getting a new, full-service fire and emergency medical service (EMS) station, after receiving a land donation from SouthStar Communities. The four-acre parcel of land located at the corner of Highway 46 and S. Crane's Mill Road, just adjacent to Vintage Oaks, was donated to the Comal County Emergency Services (CCES), District 3, and will be home to a station featuring an engine, brush truck and ambulance, and staffed 24 hours with fire and EMT personnel. CCES operates Canyon Lake Fire and EMS, with District 3 currently servicing a 250-square-mile area in North Eastern Comal County.

"The donation of land in the Vintage Oaks service area allows our Comal County Emergency Services District (ESD) No. 2 and 3 to extend Fire and EMS services into the area with a resulting reduction in response time and improved service delivery," said Shawn Wherry, Fire Chief of Canyon Lake Fire/EMS.

Longtime Vintage Oaks resident and President of the Board of Commissioners for CCES Don Wagner was pleased to work with Vintage Oaks Owner/Developer SouthStar Communities on the donation.

"Residents in this part of the County have wanted to have nearby fire and EMT facilities for years now," he said. "We're grateful to Vintage Oaks and SouthStar Communities for this magnanimous donation. Land prices in this area would make it very difficult for CCES to site a new facility in this area without this donation."
---
Meet Angela Walls, Newest Member of Vintage Oaks Realty

Angela Walls is the newest member of Vintage Oaks Realty, bringing many years of real estate experience and expertise to the seasoned team. Angela is a native Texan and has been in the Hill Country area since 1979 and she has 20+ years of experience in the real estate industry. Her honest and trustworthy reputation exceeds her in the community and among her peers. She is a past President of her Board of Realtors and was voted Realtor of the Year in 2012. Her strong work ethic is dedicated to her clients and their real estate needs, proving that personal integrity does bring success in today's Real Estate World. She specializes in waterfront, residential, new construction, farm and ranch, commercial, and acreage property.

Visit the Vintage Oaks Realty website to learn about the rest of the Realty team and for a complete list of available properties. If you are looking to sell your home in Vintage Oaks or the surrounding area, call (830) 708-1625 for a complimentary residential market analysis and to speak with one of our real estate experts.

Visit www.vintageoakstexas.com/builder-services if you are looking to start the homebuilding process and aren't sure where to begin.
---
Local Businesses Owned by Vintage Oaks Property Owners
A great way for neighbors to support one another is to support each other's retail or service businesses. If you own a local business in the New Braunfels or surrounding area, let us know. We will be compiling a list of businesses owned by property owners in Vintage Oaks that will be included on the Vintage Oaks Owners Website. Please send your business name, type and contact information to brooke@southstarcommunities.com.
---
The Veterans Walk in Timber Ridge
Veteran pavers for The Veterans Walk in Timber Ridge Park are available for purchase. To honor the military service of a loved one, please download the order form here and mail or turn in the completed form along with payment to SouthStar Communities, 1110 Vintage Way, New Braunfels, TX 78132.
---
Community Events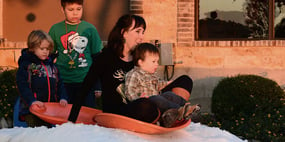 Holiday Celebration Save the Date

Mark your calendars for Saturday, December 3 for the Annual Vintage Oaks Holiday Celebration at the Clubhouse. Kids love coming to the Holiday Celebration to meet Santa and sled down snow mountain! Watch your email for more details.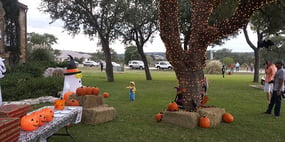 Halloween Trunk-or-Treat Save the Date

Start off the holiday season with a 'BOO' at the Vintage Oaks community Halloween Trunk-or-Treat at the Clubhouse on Halloween night. Details are coming soon!
Thanks to a break in the rain, the Memorial Day Pool Party at the Vintage Oaks Clubhouse was a perfect start to the summer season on May 29. There was a constant line of kids at the Slip 'N Slide inflatable and everyone delighted in fellowship, food from Comal-Q food truck and cupcakes.

There were lots of new faces and many neighbors noticed the recent Clubhouse refurbishments from new and restored pool furniture to freshly painted picnic tables and Lazy River bridge.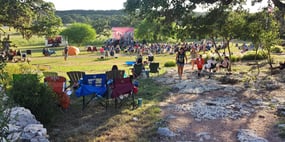 Micky and the Motorcars Concert
Neighbors and friends of Vintage Oaks experienced a nice summer evening of music, courtesy of alt-country band Micky and the Motorcars, on June 22, 2016. The clear sky and beautiful setting brought out a sizeable crowd and guests enjoyed Teka Molino and Bayou J's food trucks along with the latest hits from Micky and the Motorcars studio album 'Hearts from Above'.
Labor Day Pool Party and Movie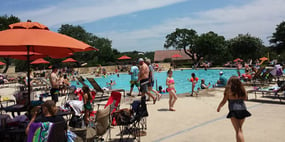 Neighbors gathered at the community Clubhouse on Labor Day to say farewell to summer with grilled food, water slides, shaved ice, waterproof airbrush tattoos and of course lots of catching up with one another. Although the threat of weather kept the movie from being a dive-in movie as planned, the evening ended with an entertaining showing of The Sandlot under the safety of the covered pavilion.
Bonnie Bishop Concert in Timber Ridge Park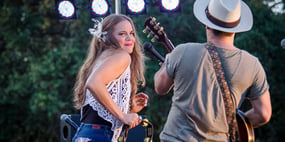 Grammy Award winning singer and songwriter Bonnie Bishop performed on September 15 for another concert at beautiful Timber Ridge Park. Her soulful set included "Mercy," "Shrinking Violet" and "You Will Be Loved." Guests enjoyed food from the food and dessert trucks and catching up with one another.
---
Click here for a calendar of all the upcoming events at Vintage oaks
---
Property Owner Referral Program
A large percentage of the Vintage Oaks community is made up of friends and family of current property owners. We are proud to have a community who wants their friends to live here too. If you have friends, family or co-workers that would love Vintage Oaks, tell us and we'll give you $500 when they close on their new homesite.
---
Property Management Company, SouthStar Property Management

SouthStar Property Management provides support to Vintage Oaks, carries out the direction of the Board of Directors and facilitates the day to day operations of the Association.

Visit the NEW AND IMPROVED Owners Website. Find helpful resources such as forms, Design Guidelines and other governing documents, pay your assessments, online chat with other owners and property management, reserve the Clubhouse and request key fobs or remotes. An email with instructions for login to the website will be sent to you upon closing. If you have not yet received this email, visit http://www.vintageoakstexas.com/credentials to request login credentials. If you need your password, follow the Forgot your password? link at the bottom of the login page.

We would like to introduce two members of the management team whom many of you may already be familiar with – Laura Ficco and Sally Needham. Laura Ficco, who has been with SouthStar Communities since 2012 and has also been an important part of SouthStar Property Management since its founding, has been formally named the Vice President of SouthStar Property Management. Sally Needham has also recently joined the management team as a Property Manager alongside Jesse Keasler. Both Jesse and Sally can be reached at (888) 738-1803 or via email at info@southstarpropertymgmt.com. They will be based out of the Vintage Oaks Sales Office and available five days per week (most weeks) or feel free to set up an appointment to discuss your needs.

SouthStar Property Management Contact Info:
Email Address
info@southstarpropertymgmt.com

Mailing Address
Property Owners Association of Vintage Oaks
c/o SouthStar Property Management
1114 Lost Creek Blvd., Suite 270
Austin, TX 78746

Phone Number
888-738-1803

Owner's Website
http://www.vintageoakstexas.com/portal