Resident Testimonials
Read what some of our residents have to say about life at Vintage Oaks
Ron and Judith Walton
It's not just the location in the Hill Country and the amenities, the two pools, the clubhouse, the lazy river…but it's the people who live here that make it most enjoyable.
A lot of very friendly people and very helpful and caring and they come together and form clubs and somebody starts an activity and people join. This is a real community.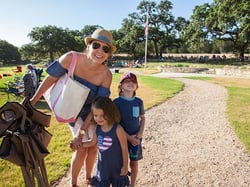 Lori Brown
It's very family friendly, the schools are great. It's just quiet in the evenings, lots of wildlife and nature. It's nice, you kind of feel like you've escaped everything yet you're really close to town and all the essentials you need.
We enjoy living out here just because it is so close to New Braunfels. We feel like we're part of the community in New Braunfels yet we're away from the hustle and bustle of everything and we're also real close to 281, so we can get into San Antonio really quick.
Derrill Naschke
We decided to ride through and we found a lot that we really liked close to the pool. We settled in, we've made a lot of great friends with kids our kids' age and we spend a lot of weekends at the pool.
I knew we kind of wanted to be closer to New Braunfels. What's great about this community is we're 10 minutes outside of town, 10 minutes from the grocery store.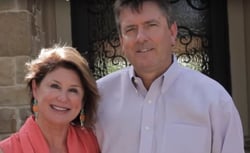 Ricki and Eric Holt
I think it's an incredible place to live. The one thing that makes a community is the kindness and the companionship of your neighbors. As short a time as I've been here, I already feel that community atmosphere.
Scott Powell
The size of the lots as well as the peace and quiet were a big part of the decision to build in Vintage Oaks. The views are amazing. As we got closer to the build, we saw how wonderful the neighbors were. Many of our new neighbors offered to help any way they could during our build. The amenities are important to us, and they are exceptional and continue to grow and evolve.
Dana and Brian Zapalac
One of the neighborhoods we looked at prior to this one had a time restriction to start construction. To find a neighborhood where we could build on our timeframe was just perfect for us. And we liked how we could use our own builder as well.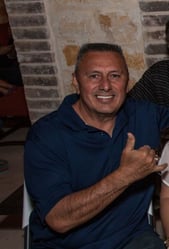 Frank Tapia
I was told about Vintage Oaks from a coworker of mine that lives here in the community. He invited me to look at the area, the clubhouse. My wife absolutely fell in love with it, the acre-lot that we have and the amenities.
Basically, the land loan program is mainly for veterans that are looking to get a good interest rate and looking to buy land, so I went and looked into it. The process was very, very short. We closed pretty soon. I love the Marine Corps. I'm a retired Marine, so I expect high standards of the people I deal with. It was just an awesome experience.
We have grandchildren that love to come and use the pool. My wife and I use the trails. They have cookouts, they have parties. They get together and have wine nights where everybody will share a bottle of wine. It's just a well-knit community here.
The great thing about it is it's right between Austin and San Antonio. There are so many things to do here.

Wayne and Cynthia Graybill
This is the third year that we have attended the annual Christmas party at Vintage Oaks. It's a very graciously conducted party that we thoroughly enjoy and it gives us an opportunity to come up here and see our neighbors that we know as well as an opportunity to meet new ones. It's an opportunity for the younger crowd to bring their small children to meet with Santa.
Kate Seibert
We fell in love with the views, trees, and amenities. We are a family of 5 with 3 small children so loved it being a safe, family neighborhood. It was the best price for better land compared to other communities and had the best amenities for sure. We want look out our windows and see trees!
Jason Schraub
I was the first person to purchase a lot in Vintage Oaks when it was just farmland. My wife and I got married at the clubhouse in 2010 and will eventually move out to Vintage Oaks when our kids get a little older.
My wife works in New Braunfels and I work in San Antonio. Vintage Oaks is a first-class community that allows us to be in an ideal location that fits our lifestyle. The amenities are absolutely amazing and everyday we are at the pool it feels as though we are on a vacation.
Phillip and Denese Novosad
We fell in love with Vintage Oaks - the scenery, amenities, and great curb appeal really set it apart from other communities in the area.