Custom Home Builders
choose your Hill Country home builder and build when you're ready
While Vintage Oaks does not recommend any particular builder, the Builder Match program can provide you with feedback/reviews from other owners who have recently built in the community, and arrange interviews based on your criteria.
Below are builders who are currently active in Vintage Oaks - click on a builder name below to learn more.
When you begin looking for land at Vintage Oaks, we work with you to find a homesite that meets all of your specifications, based on your ideal size, price, time frame, and preferences. At Vintage Oaks, we pride ourselves on the beautiful community that has come together reflecting different building and design styles all within a natural Hill Country setting.
Not Sure? Let us help you find the right Builder
Contact us today to learn more about our complimentary Builder Match Program where we work with you to find the best builder for your Hill Country home at Vintage Oaks.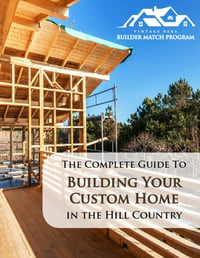 The Builder Match Program helps Vintage Oaks owners by matching them with the best builder for their needs, simplifying the process of building a home and addressing important questions and concerns for an easy and stress-free experience.
Instead of blindly choosing a builder or selecting one without knowing much about them, their work, or their previous customers, Vintage Oaks land owners are able to make an informed choice based on: Builder "reviews" culled from owner feedback on factors such as quality of work, budget guidelines, time frame from start to finish, and post completion customer service; and recommendations formed by the more than 800 property owners who have built a home in Vintage Oaks, including many who can provide critical insight into their recent construction experience
Complete the form or call us to get started!