Vintage Oaks Builder Resources
Welcome to Vintage Oaks Builder Resources
This section will provide you with the documents, processes and information to successfully construct a high quality home in Vintage Oaks. If you have questions at any time, feel free to contact us at
ARB@VintageOaksTexas.com
, or
830-267-4651
.
The Architectural Review Process at Vintage Oaks cannot begin until lot is closed. This process is for home construction, or any improvements made on the property.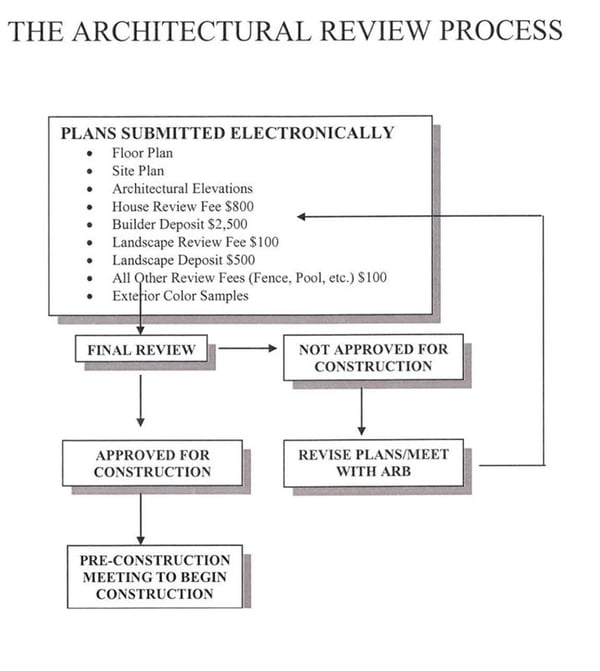 ARB Application Requirements, Application & Fee Schedule
ARB submittal of plans & details to ARB.
Review can take up to 30 days.
If home is being constructed for a property owner, builder or owner may submit application and fees
Property owners POA account must be current prior to ARB review of plans
Before construction may begin, the following requirements must be met:
ARB approval

Install dumpster (30 cu.yd. min)

Install dump box (8' x8' plastic lined

Chemical toilet, not facing the road

Construction entrance with culvert (as required)

Fire Suppression equipment onsite

Receipt of builder deposit and all fees
During Construction requirements (ARB representatives are onsite daily and monitoring all activity)
Adhere to approved days, hours and times for construction activity
Compliance to approved plans
Maintain a clean site
Prohibited on construction site at all times by builder and all subs:

Firearms (regardless of carry permits)

Children under 16 years old

Loud music (heard from road or adjoining properties)

Unnecessary vehicles or equipment left onsite

Use of community common areas
LANDSCAPING
Landscaping application must be filed no later than 30 days prior to anticipated construction completion
Application and landscaping deposit fees paid (same as ARB application)
Landscape must be fully installed no later than 6 months from move-in
Arrange for final inspection with ARB representative (link to email) once landscaping is complete
BUILDER DEPOSIT
Builder deposit will be refunded net of any fines applied against the builder (violations, damage to roadway).
Request for deposit refund must be made in writing to the Architectural Review Board. They will review the site, any outstanding violations and respond within 30 days. To request a refund, contact them at
ARB@VintageOaksTexas.com
CONSTRUCTION SIGNAGE
View guidelines here
STREET & LOT MAP
PROPERTY MANAGEMENT
The Neighborhood Company
1118 Vintage Way New Braunfels, TX 78132
(830) 264-2454