you're invited!
Fitness Club Grand Opening Event and EXPO
Saturday, February 23rd, 2019 from 11am to 3pm
1110 Nutmeg Trail, New Braunfels TX 78132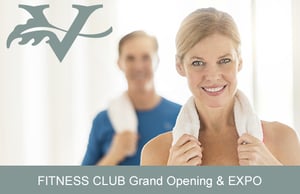 Join us at the NEW Fitness Club for a Grand Opening Event and EXPO! In addition to touring the new 7,800 sq. ft. fitness facility dedicated to our owners, you can visit a variety of local health and wellness vendors to learn new approaches to conquer your current health concerns, enhance your physical fitness and nutrition.
Enjoy nutritional food and beverage samples as well as specials from different vendors!
Participating vendors include:
Nutrition 46

Incorporated Massage

Comal Springs Acupuncture

Cibolo Creek Physical Therapy

Fit4Mom

IV Bars of New Braunfels

Fresh Healthy Cafe

URun

Popcorn Fridays

Resident exercise groups and many more!
Our fitness instructors will be on hand teaching small breakout sessions and answering any questions you have about the new facility.