Vintage Oaks Welcomes J.R. Martinez!
Army Veteran, TV Star & Now Vintage Oaks Property Owner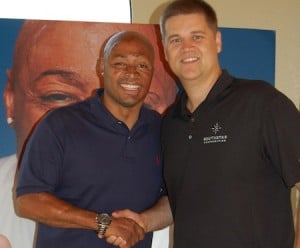 J.R. Martinez, the Army veteran who rose to the spotlight after winning Dancing With the Stars Season 13, plans to build his dream home in Vintage Oaks. Martinez recently purchased two homesites in one of the community's gated neighborhoods and hopes to begin building soon.
Martinez was welcomed to Vintage Oaks by his new neighbors June 23 during a book signing event for his new book, "Full of Heart." More than 150 neighbors and fans attended the event, which raised money for Operation FINALLY HOME, who has built two mortgage-free homes for wounded veterans in Vintage Oaks as well as over 40 more across the United States.
About J.R.
In March of 2003, J.R. was deployed to Iraq, and on April 5, less than a month into his deployment, he was driving a Humvee in Karbala, when his left front tire hit a roadside bomb. The three other soldiers were ejected from the burning vehicle, but he was trapped inside and suffered smoke inhalation and severe burns to 34 percent of his body. J.R. claims that while he was fighting for his life and awaiting medical help his sister, Anabel, appeared to him giving him the strength to live.
J.R. was evacuated to a local medic station in Iraq and then to Landstuhl, Germany, for immediate care. He spent 34 months in recovery surgery at Brooke Army Medical Center (BAMC) in San Antonio, Texas, and underwent 33 different surgeries including skin grafts and cosmetic surgery. During recovery, a nurse asked him to speak to a burn patient, who had just seen his body for the first time and had become withdrawn. After a 45-minute visit, the patient opened the curtain letting light in his room and his heart. J.R. then understood the impact he had on this patient and decided to use his experience to help others. He continued to visit patients sharing his story and listening to theirs.
The Past Two Years
The past two years have been quite something; not only did he and his dance partner, Karina Smirnoff, take ABC's "Dancing With The Stars" season 13 coveted mirror ball trophy, he served as the 2012 Tournament of Roses Grand Marshal. J. R. was the cover of People Magazine, featured in their Sexiest Man Alive issue and one of the magazine's 25 Most Intriguing People of 2011. Many awards and honors have been bestowed upon him including: Unsung Hero Award at the Lady in Red Gala; An Ivy Award for his work on behalf of the disabled in the entertainment community; recognized by the Los Angeles City Council for his dedication and passion to serving and inspiring those around him and the 2012 National Red Cross Spirit Award. He was the recipient of the 2012 National Disabled American Veteran of the Year Award and he also received the 2012 California DAV of the Year Award. He was honored to introduce Dr. Jill Biden at the January 19 2013 "Kids' Inaugural: Our Children. Our Future." concert. The star studded event was attended by active and retired military members and their families.
J.R. guest starred on Lifetime's "Army Wives," as a physical therapist in the season finale. He played 'Brot Monroe' on the Emmy Award winning daytime drama "All My Children." In true Hollywood fashion, he was encouraged by a friend to go on the open casting call that AMC put out for a veteran to join the cast. After several meetings with producers he was cast and an actor was born. Due to his popularity, what started as a three month story arc, developed into a three year stint. His role as an injured Iraq combat veteran mirrored his own life. AMC ended its 41 year run on ABC September 2011. He is featured in the documentary "Trial By Fire: Lives Re-forged."
He has become a highly sought after motivational speaker and he travels the country spreading his message of resilience and optimism. He devotes himself to showing others the true value of making the most of every situation. He is called on by a wide-range of groups including, corporations, veterans groups, non-profits, and schools. He is a spokesperson for Operation Finally Home, an organization that builds mortgage free homes for disabled veterans and he is involved with Phoenix Society for Burn Survivors, Rebuilding Americas Warriors (R.A.W.) and the USO. He was a judge for Dr. Jill Biden's and First Lady Michelle Obama's Joining Forces Community Challenge that recognizes organizations who support veterans
J.R was featured on Katie Couric's 2011 ABC Special "The Year," and narrated the CNN documentary series,"In America: Vets Wanted?" Talk show guestings include: "Access Live," "Entertainment Tonight," "The Oprah Winfrey Show," "60 Minutes," "Ellen," "The View," "Good Morning America," "Dr. Oz," CNN, FOX News and Univision. He has been featured in the Los Angeles Times, The Washington Post, The New York Times, Guidepost, Success, Salute, U.S. Veterans and DAV Magazines.