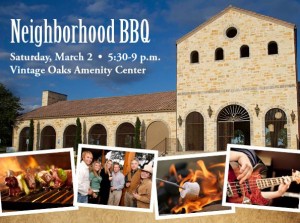 This Saturday from 5:30-9 p.m., bring your friends and family to the Vintage Oaks Amenity Center for an evening with the neighbors! Join us for a catered barbecue dinner, beer/wine and a S'mores bar -- while basking in the warmth of our new fire pits. Live music will be provided by the Texas Twisters, featuring great hits in classic rock and country. So bring a lawn chair and your dancing shoes!
SouthStar Senior Vice President Thad Rutherford also will give a quick update on the community's development progress and exciting things planned for 2013. RSVP by calling (800) 785-3891 or email us at info@southstarcommunities.com.
For more information on Vintage Oaks, visit our web site here.