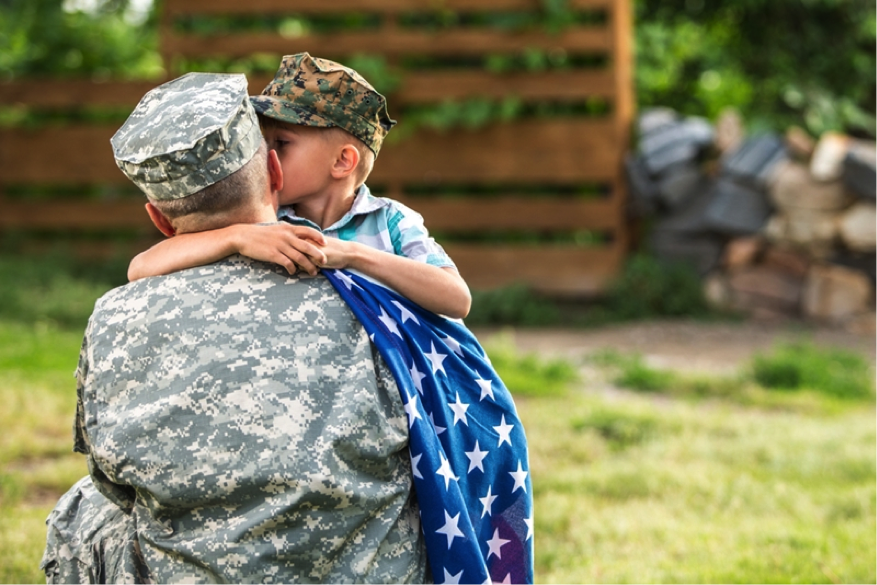 Looking to buy a home in the Hill Country or maybe build a home in the area? Location, home size, and price are obviously important no matter who is in the market for a new place. But for veterans, there may be a couple of special considerations. Here are a few things you may want to keep in mind before you sign on the dotted line.
Location is key
Is the community you're looking in close to work, play, and the places you love? What about amenities for veterans? New Braunfels is the preferred location for veterans for so many reasons, starting with its great mix of natural beauty and access to important veterans' services.
The area is within easy access of Randolph Air Force Base, the New Braunfels VA Clinic, and Brooke Army Medical Center (BAMC) on Fort Sam Houston in San Antonio. It's also within a half hour to downtown San Antonio and 45 minutes to downtown Austin. Vintage Oaks ups the ante with a serene setting right on the Texas Wine Trail that feels exceptionally private but is convenient to all that New Braunfels has to offer.
Is your community veteran-friendly?
Owners at Vintage Oaks are comprised of a mix of families, retirees, and veterans. In fact, more than 30% of the community's households have at least one family member who is active or retired military.
Among the many other things that current or former members of the military are looking for when considering their options for home ownership is a place where they really feel at home. Vintage Oaks is a tremendous supporter of the military community through its longstanding partnership with non-profit Operation FINALLY Home (OFH), offering homesites and mortgage-free homes to wounded veterans. Vintage Oaks developer SouthStar Communities and OFH have partnered on numerous mortgage-free homes for American heroes in the community.
Vintage Oaks also dedicated a special place in the community to veterans. The Veteran's Walk adjacent to the 26-acre Timber Ridge Park is a place to honor those who have served. The commemorative stone pathway features the names of individual veterans, some dating back to the Revolutionary War. Honorees have their name, rank, and service time engraved into worn limestone along a path from the entry to the base of the oak grove, along with benches and quiet seating areas.
Special loans are available for both Texas homes and land
The Texas Veteran Land Board (TVLB) provides financing on Texas homes for veterans. For land buyers, this one-of-a-kind program offers up to $150,000 at competitive interest rates with only five percent down. The land must be at least one acre.
Eligible Texas Veterans and military can also purchase a home with competitive rates and a low—or no—down payment. The house price must be $484,350 or lower, and loan options include fixed-rate 15, 20, 25, or 30-year terms. Vintage Oaks has several land and home options that qualify under the TVLB requirements.
Flexibility is important
Some Vintage Oaks land buyers come in knowing exactly what they want to build and who their builder will be, and they want to start building immediately. Others may need a bit more time or have more details to consider. In many other Texas acreage communities, it's required to choose one of their preferred builders and to begin construction within a certain time period. Texas veterans love that, at Vintage Oaks, they can choose their builder, and purchase their land now and build when they wish.
Unimproved or improved land?
Are you a veteran who is envisioning buying land in a remote area and building a home away from the crowd? It's important to consider the pros and cons of such a move, because building this type of home may be much more involved than you thought.
Everything from zoning laws to the unseen costs involved in improving a piece of land can derail or at least delay your plan. According to Realtor.com, "The process from identifying a parcel for purchase to receiving the certificate of occupancy can take a year or more."
One of the advantages of buying land in a masterplanned community is that the zoning work has already been done and the land is already improved, speeding up the process and removing much of the red tape involved in building a home in the Hill Country. Not to mention the fact that getting a loan for raw land can be challenging. Per Realtor.com, some lenders may require a higher down payment on raw land—up to 50%. "The loan may also have more stringent credit score requirements and a higher interest rate."
Some home and land options are better than others
Whittling down what you want for your home isn't always easy, but retirees love all the choices that masterplanned communities like Vintage Oaks give them. Acreage homesites in a variety of sizes accommodate custom home dreams, and a variety of homes, from existing custom homes in the community to brand-new builder homes, are another popular option. The community of The Grove, which offers brand-new homes on smaller lots from a collection of popular Texas builders, has been popular with a wide range of buyers including veterans who are looking to enjoy the Vintage Oaks lifestyle in a lower-maintenance format.
For more information, visit Vintage Oaks, a 3,900-acre community in New Braunfels with easy access to San Antonio, Austin, and Houston. The community offers 1–14 acre homesites from the $80s and homes from the low $400s. Amenities include multiple pools, a lazy river, five miles of meandering nature trails, numerous parks, sport courts and ball fields, and the Tuscan Clubhouse, home of many of the community-sponsored events and activities as well as clubs, groups, and activities organized by owners. The newest amenity is the 7,800-square-foot Fitness Club, offering cardio and weight equipment, an outdoor fitness area, personal training areas, an age-restricted pool, saunas, and an outdoor spa.
You can also learn more about veteran resources below.