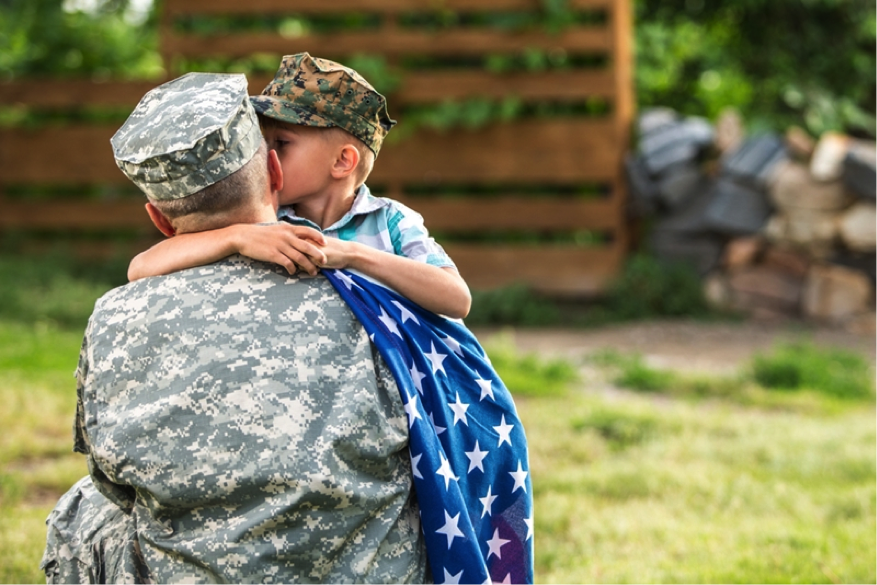 The joy and cheer of the holiday season is upon us once again. Our homes are filled with the scrumptious aroma of baking cookies, stockings are hung, holiday dinner and party plans are in place, big city lights and New Year glitz hold us spellbound, while candles illuminate windows of tiny villages, hearkening back to days of yore. It paints a beautiful picture in our minds, yet too often we forget about our Texas veterans, the people who sacrificed to ensure we have the freedom for such things.
Often, the holidays and days after the holidays are a struggle for our military veterans for a variety of reasons. These ladies and gentlemen, some are brothers, sisters, cousins, and parents, are out of uniform, but many of these brave soldiers are still fighting battles—both in their minds and in their everyday lives. The scars of the battlefield leave many of these noble heroes with PTSD, some suffer from addiction, many are homeless, and some face off with demons they cannot conquer alone. Those who have transitioned into everyday life still deserve to be honored this season and all the seasons after.
Together, we can bring a bit of Christmas love to this community by reaching out to those who have served or to local veteran homes. Something that may seem to involve minimal effort could make someone's day, change the course of their week, or even transform their life. Here are a few ways you can encourage and honor Texas Veterans this holiday season and throughout the year.
Reach Out to Those Who Have Served
The first step in helping our veterans during the holidays is simply to ask if there is anything you can do for them. There are various organizations across Texas whose goal is to make a difference in the daily lives of our heroes at home. A simple Google search can help you find great organizations in your area. Look them up, get in touch, and spend enough time to ask what they need. Most organizations will be able to tell you exactly how you can help, whether it is donating, food, hygiene items, time, or money.
Pay It Forward
If you are making a monetary donation, be sure to do your research on the organization to which you are donating. It is always important to be sure your hard-earned cash is making the most positive and powerful impact on our veterans.
Some of the groups who help our military veterans in Texas include:
Star Group—Veterans Helping Veterans
Texas Veterans Commission
Texas Veterans for Veterans
Help Hospitalized Veterans USA
DFW Canines for Veterans
Vehicles for Veterans
East Texas Veterans Resource Center
Arrows for Heroes
Texas Chapter Paralyzed Veterans of America
North Texas Veterans Initiative Inc.
Lone Star Veterans Association
Disabled American Veterans
USO
Keep in mind that it is always best to get in touch with the organization you wish to help before stopping in. Most will be able to schedule a visit for you; Whether you are donating actual goods, volunteering your time, decorating cookies, or performing, most of these places will have certain times that are more appropriate for meeting you and accepting your generous gift.
Be a Light
After doing your research and choosing the organization you wish to help, the next step is to take action. A great option for financial donations is your local USO. This organization receives its funding by donation and helps soldiers, wounded warriors, active military troops, and their families balance military and civilian lives. Other great ideas include organizing a fundraiser, "adopt a veteran" programs, volunteering time with the VA, donating a car you no longer need, and working with Soldiers' Angels. This organization provides assistance to homeless veterans, deployed troops, wounded warriors, and their families.
No matter how you choose to help, your efforts will surely make a difference in the lives of our American heroes this happy holiday season. Changing lives and healing wounds is an ongoing process that doesn't happen overnight. Even if your contribution seems small and insignificant, it is a spoke in the wheel of change. Working together, we can brighten the holidays, and every day for our veterans, one day, one year, one Christmas at a time.
About Vintage Oaks
Vintage Oaks is a 3,900-acre masterplanned community featuring Texas land for sale from one to 14 acres priced from the $90s and a variety of custom and semi-custom homes, plus spectacular Hill Country views and towering oak trees. Owners enjoy amenities including three pools, a lazy river, children's playgrounds, five miles of nature trails, tennis and basketball courts, sporting fields, and the stunning Tuscan clubhouse. The year-round calendar of events and activities for all ages includes the Summer Concert Series in Timber Ridge Park, dining out groups, Bunco groups, swim-in movies, yoga classes, Wine Night, Halloween Trunk-or-Treat, and the annual holiday event in the community, complete with a snowy sledding hill.
The new Fitness Club at Vintage Oaks gives owners a world-class facility right in the community, with 7,800 square feet of space including: large indoor/outdoor classrooms; a lap and fitness pool; Precor cardio and Life Fitness weight equipment; a hot tub; locker rooms; and more than 100 group exercise classes per month including yoga, water aerobics, and boot camps.
The fastest-growing community in the Hill Country for five consecutive years, Vintage Oaks has no city taxes and offers the ability to choose your builder and build when you're ready.
You can view images and the interactive map of the newest property release below.