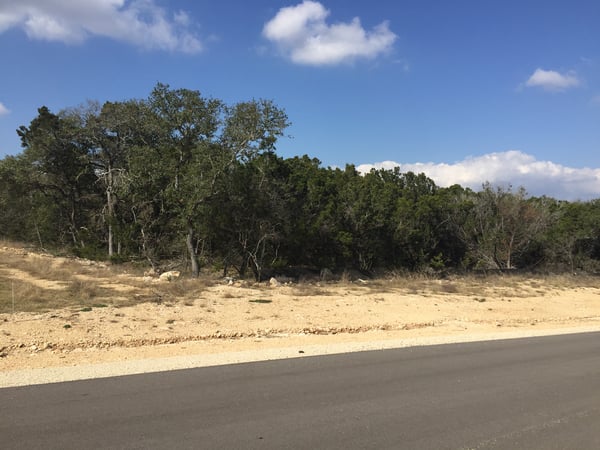 Finding the perfect property to build a custom home in the Hill Country was a labor of love for new Vintage Oaks homeowners, Ramona and Kelvin Franklin. The couple looked for about a year for the right homesite and were immediately smitten upon seeing the Deer Creek lot they were lucky enough to see just a few days after it was released. "We looked at each other, gave the thumbs up, and then said, 'You can take it off the market,'" said Kelvin.
The couple was already sold on Vintage Oaks, having experienced the sense of community they were seeking early on, with neighbors coming by the house while it was under construction to introduce themselves. Familiarizing themselves with the on-site amenities sealed the deal. "As soon as we drove around and saw the amenity center, we knew this was it," said Ramona. "We also loved the walking trails, and looked at the events calendar and knew we could meet people; everyone seemed so friendly."
As the house started to take shape, so, too, did new friendships. "The day we moved in, our neighbor across the street said, "You're coming over to dinner tonight," said Kelvin. "We have also had several additional impromptu dinners, met our neighbors up and down the street for get-togethers, the men get together for sporting events. The high level of community was one of the main reasons we wanted to be in Vintage Oaks, and it was instant."
The couple first saw "the dome" when they toured houses with their chosen builder, Hacienda Custom Homes—and was one of the reasons they chose to work with this builder. Now they have their own, and it's a showstopper. "The feature people immediately notice, and one we loved when we first met with Hacienda Homes, is the dome over the kitchen island," said Ramona. "They were wonderful to work with and did a fantastic job."
The living room with its grand fireplace wall is another highlight—especially because it offers immediate access to the outdoors, where the couple can enjoy the abundance of Hill Country beauty surrounding their home.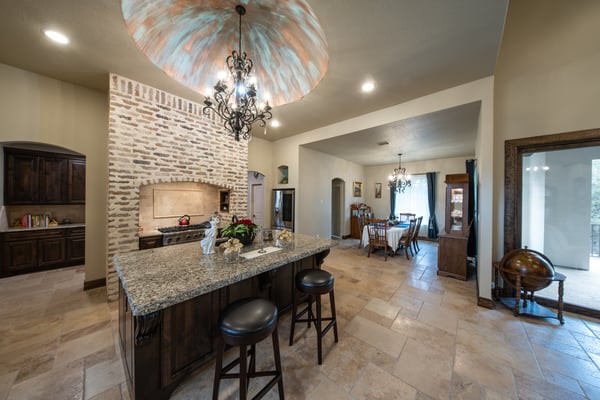 The couple realized their dream of building a Mediterranean home—one that reminds Ramona of living overseas, where she had a long career in the military. "I had a former colleague who knew I was moving from overseas," she said. "Kelvin and I are both employed in San Antonio but we wanted a small-town feel. My colleague told me to check out Vintage Oaks, and we loved what we saw. We've been to other developments, and they just do not compare."
The finished home reflects the couple's taste and style and fits beautifully within Vintage Oaks' gorgeous landscape. It also suits the couple's lifestyle since it was designed for their specific needs—this is just one of the many benefits of building a custom home in the Hill Country.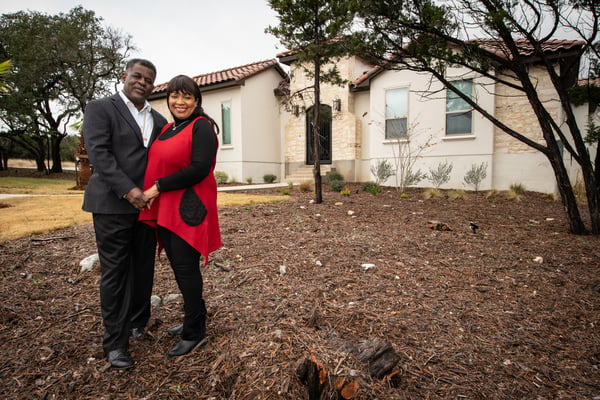 The couple built their home to live like a one-story; the meditation room is the only upstairs room. "We can just close the door when we get too old," Kelvin joked. For now, the couple ascends the stairs to enjoy the windows on two sides, which provides stunning views of both the sunrise and sunset.
Ramona and Kelvin's piano room was built to take advantage of the "incredible acoustics" and mutual love of music. Ramona's aunt is famed singer Gloria Gaynor, and she was one of the esteemed guests and performers at the couple's Thanksgiving weekend get-together. "We also had Ramona's Grammy Award-winning vocal teacher; LaDonna Taylor, an incredible violinist who played a few songs on a $200,000 violin; one of our best friends who is a jazz saxophonist, and a piano virtuoso," said Kelvin. "We invited 60 people and turned this house into a musical venue. It was a wonderful time shared by all of us."
The couple also anticipated how popular their home would be and built a private casita across the courtyard, as well as adding a built-in wine cellar to store their 150–200 bottles of German wine, a media room, and an exercise room.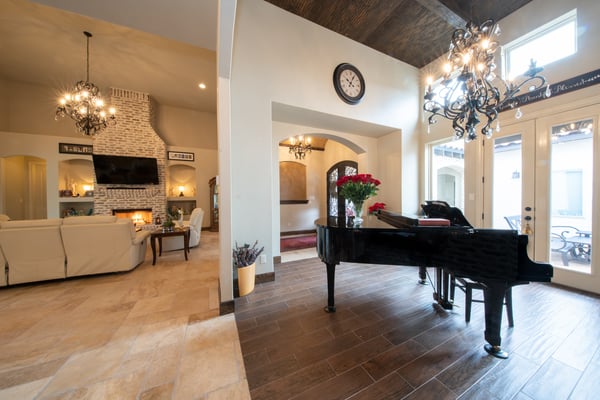 For more information about building a custom home in the Hill Country, visit Vintage Oaks. Vintage Oaks is a 3,900-acre masterplanned community that offers acreage homesites ranging from 1 to 14 acres in gated and non-gated neighborhoods as well as custom, semi-custom homes, and Quick Move homes. On-site resort amenities include multiple pools, a lazy river, miles of walking trails, ball fields and sport courts, a Tuscan clubhouse, a year-round calendar of community events, and the brand-new Fitness Club.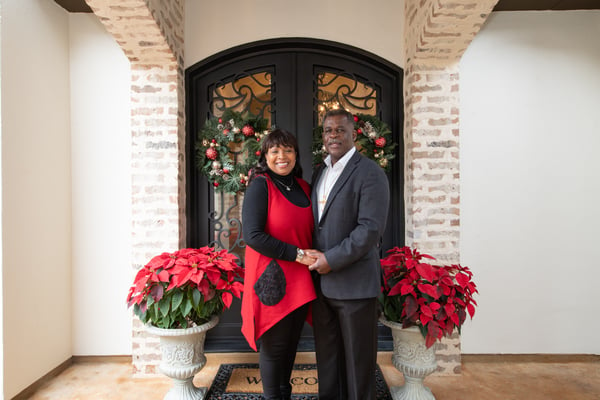 You can see more photos of Ramona and Kelvin's home here and also request a copy of the interactive map below.