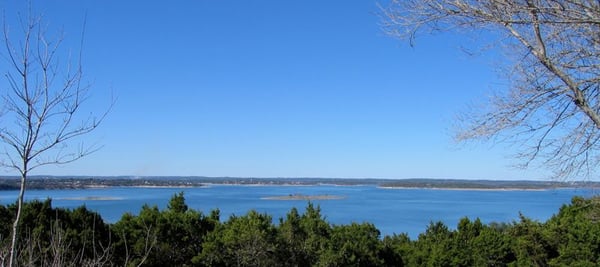 You can be sure of one thing when you spend time at Canyon Lake: It'll make you want to spend more time at Canyon Lake. Between the excellent fishing, the multiple water sports, and the relaxing natural environs, it's not hard to see why people are lining up to buy Canyon Lake land for sale.
Drop a line and see what the catch of the day is. Take a hike among beautiful surroundings, or hit the lake to go boating, jet skiing, kayaking, hover boarding, or parasailing. It's all in a day at Canyon Lake.
Fishing
Canyon Lake is one of the deepest lakes in Texas at an average of 43 feet, helping to create ideal fishing conditions. "Largemouth bass is the most popular and most abundant sportfish in the reservoir," according to Texas Parks & Wildlife. "White bass and striped bass also provide an excellent fishery. Stripers provide excellent angling because of their growth potential and strong fighting characteristics. An annual TPWD stocking program maintains the fishery because striped bass do not successfully reproduce in this reservoir. Crappie fishing is generally poor, although occasionally good catches can be made, especially along standing timber in the river. Angling for redbreast sunfish can provide an excellent fishing experience for the family. Channel, blue, and flathead catfish are present in good numbers. A low density smallmouth bass fishery exists. These fish were stocked in the 1970s and 1980s and persist through natural reproduction. Fishing for smallmouth is better in the lower 1/3 of the reservoir."
Boating and other amenities
Canyon Lake is known for its abundant water sports; you can pretty much traverse the lake in every way imaginable, and boaters can make use of the Canyon Lake Marina on the north shore, as well as boat ramps and boat rentals for those who have not yet bought their own vessel. Numerous other amenities make Canyon Lake an ideal place to spend time. The lake has about 80 miles of shoreline, with eight public parks and picnic areas and rich wildlife in the surrounding area. Go for a hike and you might spot a roadrunner, white tailed deer, or fox!
Buying Canyon Lake land for sale
When you're done at the lake, it's just a short drive to top New Braunfels communities like Vintage Oaks, with the Hill Country's most beautiful land for sale. Vintage Oaks is a 3,900-acre masterplanned community and the fastest-growing community in the San Antonio area for the past five years. From renowned developer SouthStar Communities, Vintage Oaks offers acreage homesites ranging from 1 to 14 acres in both gated and non-gated neighborhoods as well as an abundance of custom and semi-custom homes for sale. The community's famed amenities include multiple pools; a lazy river; a children's playground; ball fields and sport courts; miles of walking trails that wind through the masterplan; a future Fitness Center; and the Tuscan Clubhouse, as well as a Fitness Club set to open later this year.
For more information on Canyon Lake land for sale, visit Vintage Oaks. You can also get a copy of the Vintage Oaks interactive map below.