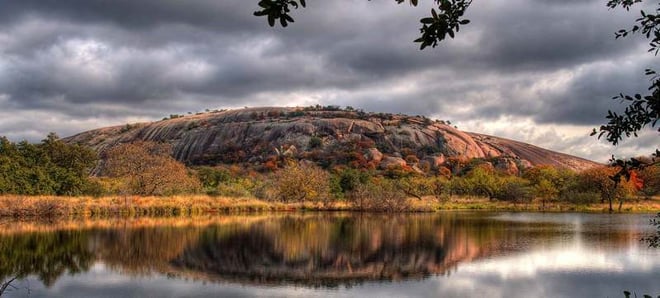 The Hill Country is a favorite area to explore, whether you're doing a tour of the Southwest, checking out the Texas Wine Trail, or daytripping from Austin, San Antonio, or Houston. If you're coming through, here are the places and activities you won't want to miss.
Gruene
This historic town is sure to charm you with its quaint shops, great restaurants, and live music at the oldest dance hall in Texas, Gruene Hall. The Gristmill is right next door, and is a favorite dining spot of locals and visitors alike.
Gruene is on the National Register of Historic Places, and strolling through the town while enjoying some homemade ice cream and viewing the remnants of the early cotton industry will show you why.
Cibolo
This city is a recreational wonder, from the playgrounds of Niemietz Park to the Northcliffe Golf and Country Club to the Cibolo Nature Center, offering 100 acres of wilderness and trails with walking paths bordering Cibolo Creek, horseback riding, and Kreutzberg Canyon Natural Area.
Fredericksburg
Quaint shops and wineries are enough reason to visit this scenic city, but if you're looking to burn some calories while you're at it, don't miss the pink granite Enchanted Rock. You'll be rewarded with a stunning view when you reach the top. This charming place is also the peach capital of Texas, so be sure to hit Marburger Orchards to pick your own.
Boerne
European architecture, charming antique shops, and a variety of art galleries line Boerne's Hauptstrasse, or Main Street. Other can't-miss spots include Cave Without a Name, a National Natural Landmark, and Cascade Caverns, which are each an actively growing limestone solutional cave.
New Braunfels
Rolling hills, lakes and rivers, towering trees and abundant greenery give New Braunfels a beautiful profile. But the city is as active as it is scenic, with hiking and biking trails, tubing on the Guadalupe and Comal rivers, watersports on Canyon Lake, park activities at Landa Park or the brand-new Fischer Park, and the waterslides at Schlitterbahn. The city's historic main plaza is the place to go for shopping with a side of charm, and several venues make New Braunfels a hotspot for live music.
While you're here, be sure to stop by Dry Comal Creek Winery, one of the 46 wineries on the Texas Wine Trial, for a taste of its award-winning black Spanish wine. Then head across the street to tour Vintage Oaks, the fastest-selling community in the Hill Country.
Vintage Oaks offers a range of home and homesites with Hill Country views and resort-style amenities. For more information, visit Vintage Oaks or click below for more local information.