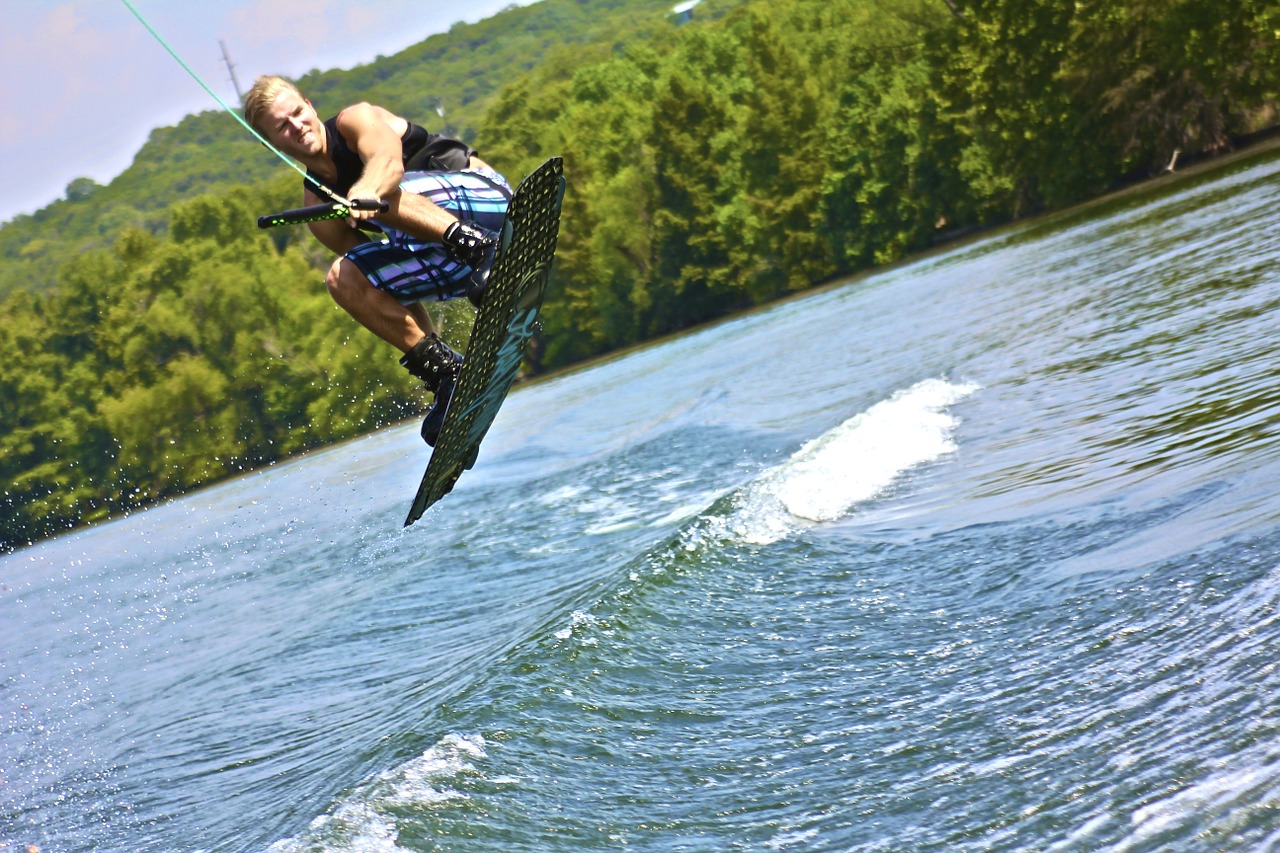 The Texas Ski Ranch is the premier adventure sports center in Comal County, offering a wide range of exciting activities and top-notch amenities for all ages. Located just outside of downtown New Braunfels along State Highway 35, the Texas Ski Ranch is one of the best places to spend a weekend in the Texas Hill Country.
The Event Center at Texas Ski Ranch
If you're looking for a great place to host a birthday party, family reunion, or a team-building retreat for your place of employment, the Palm Center at the Texas Ski Ranch could be the ideal location. The Palm Center offers competitive rates for all kinds of events from weddings to corporate conferences of all sizes with event spaces such as:
Private conference rooms with space for four to 16 guests
Beachside meeting rooms that accommodate up to 60 guests
The Beachside meeting room with patio and Beach Bar with seating for 125 or more
The Palm Center Lounge for parties up to 100 guests
The Palm Center Lounge with a deck to the lawn for accommodating up to 200 guests
Canopy Rooms for intimate gatherings above the Palm Center Lounge
Event Tents that can be setup anywhere on the property
The Grand Hall and Stage with accommodations for more than 900 guests
Be sure to call in advance to book your event arrangements, as the Palm Center at the Texas Ski Resort is one of the most popular event destinations in the Texas Hill Country.
The Wake Park
While the Texas Ski Ranch may be ideal for catered events of all kinds, most visitors come for excitement and adventure. The Wake Park offers waterskiing and wakeboarding for all skill levels, including private lessons on the 'Lil Bro for beginners and the System 2.0 for advanced riders. The Wake Park also offers group rates for unforgettable birthday parties and other events.
The Snow Park
The 70-acre Texas Ski Ranch is now home to the Snow Park, the latest addition to this amazing sports complex offering fun in the snow in the heart of Texas Hill Country. Enjoy snow tubing and snowboarding at all skill levels through a carefully crafted terrain park. For beginners and advanced snowboarders alike, the Snow Park at the Texas Ski Ranch is the best place in the Texas Hill Country to hit the slopes in style and practice your moves. The Burton Learn to Ride Center is a great place for kids to practice snowboarding and even partake in lessons from seasoned pros. The Snow Park is also great for birthday parties and other events.
Paintball and Nerf Park
Looking for exciting team shooting games in a safe and spacious park? The Paintball park and Nerf battlegrounds at Texas Ski Ranch offer great fun seven days a week. Texas Ski Ranch is an authorized Tippmann dealer, offering official Tippmann products for rentals and providing Tippmann paintballs for all paintball parties. Prices for free play are very affordable and come complete with battlefield equipment, air, paint, and referees. For the Nerf Blaster Park, you can upgrade to special blaster guns for a small fee and enjoy team-based games in a spacious arena. The Paintball and Nerf Blaster Parks are also ideal spots for kids' birthday parties. However, paintball is only available to patrons ages 10 and up.
Youth Programs
Are you looking for a way to keep your kids fit and active over summer break? The Texas Ski Ranch offers fantastic youth programs including an after-school program and summer camp to help them enjoy the outdoors, learn the value of teamwork, and build new friendships with kids from all over the Texas Hill Country. The Youth Program leaders at Texas Ski Ranch focus on group dynamics, leadership, social communication, and team building in all the youth programs and strive to make every activity fun for all participants.
The Texas Ski Ranch is a local favorite for its diverse range of attractions, events, and catering options for events like birthday parties, weddings, and even corporate retreats and conferences. During your time at the Texas Ski Ranch, you can not only partake in adventurous activities like watersports and snowboarding, but also enjoy the peaceful beauty of the Texas Hill Country with all the modern amenities you expect from a high-end resort experience. Browse the Texas Ski Ranch's rates and event offerings and book your adventure today.
For more information, visit Vintage Oaks. Vintage Oaks is a 3,900-acre masterplanned community featuring Texas land for sale from one to 14 acres priced from the $90s and a variety of custom and semi-custom homes, and is the fastest-growing community in the San Antonio area for five consecutive years.
Owners enjoy amenities including three pools, a lazy river, children's playgrounds, five miles of nature trails, tennis and basketball courts, sporting fields, and the stunning Tuscan clubhouse. The year-round calendar of events and activities for all ages also includes the Summer Concert Series in Timber Ridge Park, dining out groups, Bunco groups, swim-in movies, yoga classes, Wine Night and more.
The new Fitness Club at Vintage Oaks gives owners a world-class facility right in the community, with 7,800 square feet of space including: large indoor/outdoor classrooms; a lap and fitness pool; Precor cardio and Life Fitness weight equipment; a hot tub; locker rooms; and more than 100 group exercise classes per month including yoga, water aerobics, and boot camps.
To learn more, get started below.