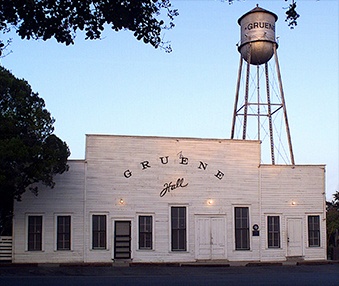 Texas Hill Country has something to offer everyone. If you're up for a day trip or just something to do on a lazy afternoon, these hidden gems are all nearby and offer a fun alternative to the norm.
Sometimes you need to take time to smell the roses, or the wildflowers, as the case may be. Farm Road 1323 allows you to do just that. Any relaxing drive on this road is a pleasure trip, as you travel by huge expanses of pasture and gorgeous vistas. When springtime arrives, wildflowers blanket the landscape around Farm Road 1323. In particular, bluebonnets and Indian paintbrushes cover the ground and delight the eye. Farm Road 1323 turns west off of US 281 about three miles north of Johnson City.
This gem in New Braunfels is Texas' oldest currently operating dance hall. During the boll weevil cotton crop disaster, this was the only business in town that never shut down. Enjoy a night out line dancing at this 6,000-square-foot dance hall covered in vintage ads from the 1930s. You'll be glad you did!
If you enjoy visiting strange and unusual sites on your travels, this one is for you. At the Toilet Seat Art Museum in San Antonio, you will meet 95-year-old curator, Barney, who will give you a complete history lesson on the toilets in the museum. Barney was born into a family of plumbers and guides guests through the museum with passion, wisdom, and a fun flair for making toilet seats exciting.
This immaculately groomed campground is a great place to spend a few nights among the longhorn cattle on your travels. Access to fine dining, art galleries, wineries, and shopping in the area gives you the best of both worlds with rustic tents, cabins, or RV camping just a short distance from civilization. Explore historical Fredericksburg during the day, then relax by the crackling campfire through the evening hours.
Also close to Fredericksburg, you'll find the giant, round, Enchanted Rock. After Georgia's Stone Mountain, this is the country's second largest granite dome. For an unforgettable sunset experience, take the half-mile hike to the top of the dome just before the sun goes down. Native American tribes also claim that the rock "talks" saying it makes strange noises after dark. Has this piqued your curiosity? Come down and listen for yourself!
If hiking and natural beauty are on your list of favorite day trip activities, don't miss Gorman Falls in Colorado Bend State Park. The hike itself is about 1.5 miles through the rugged Texan ranch country, but the end of the trail is worth the venture. The last portion of the trail takes you down a steep rocky path to the beautiful cascades that tumble down a 60-foot limestone cliff to the beautiful shaded ferns below.
Thirty miles outside of Austin, you'll find Krause Springs. The more than 30 natural springs and waterfalls on this 115-acre privately owned property offer a fun-filled day for kids of all ages. The Krause family has owned this property since 1955, which offers both tent and RV camping. Once you've worn yourself out playing in this natural water park, enjoy some time enjoying the butterfly display.
Just a few miles south of Boerne, you will find the natural beauty of Cascade Caverns. You can take an old-fashioned lantern tour of the caverns or embark on one of their epic adventure tours. Amongst the domes, stalactites, underground waterfall and lake, you will find the unique creatures of the cave, including bats, salamanders, and frogs. This venture offers a bit of education paired with a destination the kids will love!
Sisterdale, Texas is just the tiniest of towns, but it is home to the Sister Creek Vineyards. This is a hidden gem you don't want to miss! Since 1988, the winery has been growing grapes that are perfect for the conditions in Hill Country and making them into spectacular wines.
This last destination is truly a weird one for your hidden gems tour. Located in Austin, the museum only has two rooms, but they are filled to the brim with strange artifacts and bizarre history. Some of the items in the collection include the Minnesota Ice Man, wax figures of noted Siamese twins Chang and Eng, and shrunken heads.
About Vintage Oaks
Vintage Oaks is a 3,900-acre masterplanned community featuring Texas land for sale from one to 14 acres priced from the $90s and a variety of custom and semi-custom homes, plus spectacular Hill Country views and towering oak trees. Owners enjoy amenities including three pools, a lazy river, children's playgrounds, five miles of nature trails, tennis and basketball courts, sporting fields, and the stunning Tuscan clubhouse. The year-round calendar of events and activities for all ages includes the Summer Concert Series in Timber Ridge Park, dining out groups, Bunco groups, swim-in movies, yoga classes, Wine Night, Halloween Trunk-or-Treat, and the annual holiday event in the community, complete with a snowy sledding hill.
The new Fitness Club at Vintage Oaks gives owners a world-class facility right in the community, with 7,800 square feet of space including: large indoor/outdoor classrooms; a lap and fitness pool; Precor cardio and Life Fitness weight equipment; a hot tub; locker rooms; and more than 100 group exercise classes per month including yoga, water aerobics, and boot camps.
The fastest-growing community in the Hill Country for five consecutive years, Vintage Oaks has no city taxes and offers the ability to choose your builder and build when you're ready.
You can view videos and images of the newest property release below.