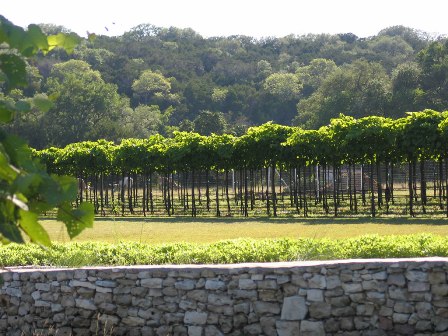 The wineries of the Texas Wine Trail are more popular and respected than ever, garnering attention and accolades from all over the world. The latest honor is one that is close to home for Vintage Oaks; it was bestowed upon Dry Comal Creek Winery, located right across the street from the community and maker of the wine that is gifted to each of our property owners on their birthday.
For the first time in Dry Comal Creek's history, the winery won Double Gold at the 2017 Lone Star International Wine Competition for their 2016 Foot Pressed Red Table Wine. They were one of only 12 double gold winners of this prestigious award, out of 598 entries. The Lone Star International Wine Competition is a premier wine competition and event in Grapevine, TX and the oldest wine competition in the state. The competition is held in June and is open to wines from all over the world.
Growing recognition for the Texas Wine Trail
Wine Enthusiast, USA Today, and Huffington Post have all recently boasted about the Texas Wine Country, while numerous area wineries have found themselves at the top of other important international competitions.
Conde Nast Traveler called Texas "America's most underrated wine destination" and quoted Jessica Dupuy, a certified sommelier who covers wine regularly for Texas Monthly. "In the past ten years, we've seen a significant boost in quality," she said. "New, savvy winemakers are setting the standard for wines that reflect a distinct flavor for the regions in which they're grown. I think in the next decade, we'll be talking about wine tasting like Texas in the way that we talk about Oregon or Washington."
Of course, those other states may be lacking the "live music and Texas hospitality" that Texas Monthly points out as an asset, not to mention the ongoing events all year round. The wineries of the Texas Wine Trail put on major events with tours a couple of times a year, and individual wineries like Dry Comal Creek have their own ongoing events, like regular wine tastings, tours, Winery U, food-and-wine pairing classes, and annual grape stomps.
For more information about living on the Texas Wine Trail, visit Vintage Oaks. The fastest-growing community in the area for four straight years, Vintage Oaks is located in the heart of New Braunfels on the Texas Wine Trail, with Hill Country land and homes for sale and a host of resort-style amenities including a Tuscan clubhouse, multiple pools, a lazy river, ball fields, and miles of walking trails.
You can also learn more about Vintage Oaks' new community of low-maintenance homes, The Grove, below.