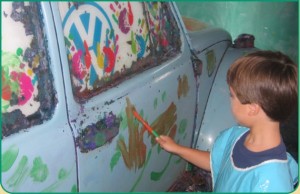 When considering a new home community in Texas, finding a spot that combines great convenience, beautiful scenery, friendly neighbors, and a strong economic climate top the list. But it's really not home if there aren't also great family-friendly activities. That's certainly not a problem in the Texas Hill Country, where great activities that run the gamut from fun in the sun to excellent dining and shopping, to some of the best cultural opportunities in the state give families something fun to do every day.
Landa Park
The largest park in New Braunfels, Landa Park offers a day of fun for families with paddle boating, miniature golf, a playground, picnic facilities, nature trails, and a miniature train.
McKenna Children's Museum
The museum offers an array of exhibits designed to engage and inspire, including the newly renovated Destination Space, where they can be "totally immersed in a sea of twinkling stars…in a simulated excursion into space." Kids will love the space sleep sack and the space toilet. See the website for more information.
Enchanted Rock
The sight of this 425-foot rock is something to behold, even if hiking to the top is too strenuous for younger members of the family. One of the largest natural rock formations in the country, Enchanted Rock is located just north of Fredericksburg in a State Natural Area.
Vereins Kirche Museum
A more educational (but still fun) museum expereince awaits at the Vereins Kirche Museum. Here, a symbol of the area's German heritage and history of Fredericksburg is depicted through a collection of artifacts and photos.
The Austin Zoo
One of the Hill Country's most unique and appreciated spots, the Austin Zoo is a non-profit facility that rescues, rehabilitates, and houses more than 350 animals. The zoo is open to the public for viewing of animals ranging from bears to big cats to monkeys and offers an unique, up-close experience to interact with animals that have been rescued from less-than-stellar conditions.
Pick your own fruit
Marburger Orchard just outside of Fredericksburg, offers opportunities to pick your own fruit depending on the season. Check the website for optimal dates for picking peaches, blackberries and strawberries.
Natural Bridge Wildlife Ranch
For a different kind of animal experience, pack the kids in the car and head to Natural Bridge Wildlife Ranch. Here you can hand-feed many of the exotic animals including zebra, buffalo, and giraffes from your car or by safari bus while taking in the incredible Hill Country scenery. Get more information here. Next door is Natural Bridge Caverns, where you can go caving, and pan for precious stones.
Schlitterbahn New Braunfels
Named the top water park in the world by Amusement Today for 16 years, Schlitterbahn in New Braunfels is a can't-miss. Families with younger kids who don't want to ride ot who aren't looking forward to water coasters will appreciate the numerous heated pools and private cabanas.
Vintage Oaks
Schlitterbahn isn't the only place to enjoy the water. At Vintage Oaks, the world-class resort-style amenities include several pools, with one specifically for kids, plus a lazy river.
For more information about raising a family in the Texas Hill Country and living at Vintage Oaks, download the Family Guide to Hill Country Living by clicking below.