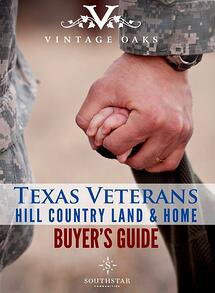 Texas veteran land loans represent a wonderful opportunity for veterans looking to purchase land in the state. But it's important to know the rules to ensure your loan will be approved by the Texas Veterans Land Board (VLB). Read on as we break down the requirements and offer some tips to get approved for Texas veteran land loans.
Qualification Requirements
Texas veteran land loans are only available to "bona fide" residents of Texas who have served in any of the United States' five military branches: Army, Navy, Air Force, Coast Guard, Marine Corps. Special discounts are also offered to disabled veterans and unmarried surviving spouses.
Click to download the Texas Veterans' Hill Country Buying Guide
Credit Requirements
As with any loan, "the VLB and its participating mortgage lenders require loan applicants to meet certain credit requirements, one of them being a minimum FICO (credit score) of 620," said the VLB.
The VLB recommends that applicants check their credit score and take steps to improve that score, if needed, before applying.
"First, order a free credit report from each of the credit bureaus (TransUnion, Equifax and Experian) once a year at www.annualcreditreport.com," they said. "Check for damaging errors, and then write a letter to the bureau to dispute any incorrect items. Second, it is important to keep your payments current. Your payment history accounts for 35 percent of your total FICO score."
The VLB offers more tips on their website.
Loan Requirements
The down payment required for a VLB loan is just 5%. That is the lowest down payment available in the state of Texas for a land loan. There is also no minimum income requirement.
The VLB loan is a 30-year, fixed-rate loan, and carries no pre-payment penalty.
Land Requirements
The VLB loan is only for properties in the state of Texas. Land must be at least one acre and can't be valued at more that $100,000.
Where to Purchase
The veteran-friendly community of Vintage Oaks offers homes and homesites ideal for Texas veterans. Vintage Oaks is the fastest-growing community in the Texas Hill Country and is convenient to the San Antonio Military Medical Center, the VA Clinic in New Braunfels and Randolph AFB.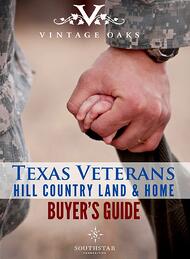 Vintage Oaks is home to a number of retired military, veterans and wounded warriors including Army Specialist Cody Nusbaum, recipient of a homesite and mortgage-free home in partnership with Operation FINALLY Home (OFH) and American hero and celebrity J.R. Martinez, who recently purchased a double lot at Vintage Oaks on which to build his dream home.
SouthStar Communities and OFH have now partnered on 10 mortgage-free homes for American heroes. For more information about OFH, Vintage Oaks, or the VLB loan, download the FREE Texas Veterans' Hill Country Buying Guide.