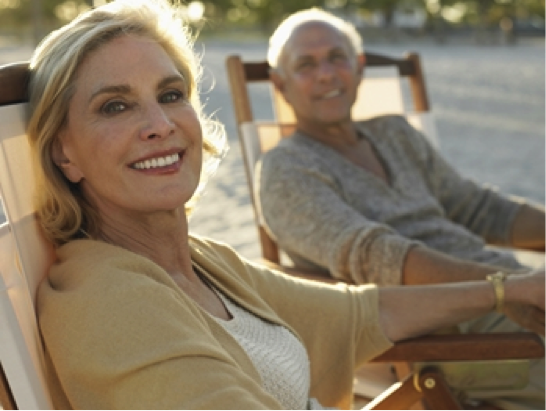 Caring for aging parents is a growing reality for many people today, and the trend of multigenerational living in the Hill Country is hitting home in more ways than one.
"With baby boomers aging, the U.S. population of people 65 or older is expected to burgeon from 39.6 million in 2009 to about 72.1 million in 2030, according to federal Administration on Aging data," said Rodney Harrell, an AARP senior policy adviser and housing expert in the Washington Post. "Thus, more families are looking to provide space in their homes for an elderly relative."
That means a growing demand for in-law suites, which is a hot trend for custom homebuilding in the Hill Country and nationwide. While, in other parts of the country, homeowners have no other choice but to add on to their home or convert an existing space to create room for their aging parents, Hill Country acreage communities like Vintage Oaks allows New Braunfels land buyers to plan out the suite from the beginning of their custom home build.
With large lots starting at one acre, there is plenty of space to add to the footprint of the Vintage Oaks custom home and still have ample room for a sprawling main home and a dream backyard. An in-law suite is often referred to as a "home within a home" because it offers, at a minimum, a private bedroom, bathroom, living area, and full kitchen. Some can be freestanding, but, generally, an in-law suite has a separate entrance but is also connected to the main home through a breezeway or other manner.
Building these in-law suites is often preferable to moving aging parents into an existing home because of the extensive changes that would have to be made to accommodate the principles of universal design.
Some of the essential features of universal design, according to Houselogic, include:
"Wider doors. A 30- or 32-inch-wide interior door is considered standard, but universal access requires 32 inches of clear space when the door is open, which usually means specifying a 36-inch-wide door.

Grab bars for shower, tub, and toilet. Cover the framing of the entire tub, shower, and toilet surround with ½-inch pressure-treated plywood so that you can install grab bars anywhere on the wall, either immediately or at any time in the future.
A curbless shower. These showers have no lip at the floor and can be accessed by those using a wheelchair or other mobility device. The floor slopes down toward the drain; a swing-out door or a shower curtain keeps water contained. From a design standpoint, the minimalist lines fit seamlessly into a contemporary spa-style bathroom.
Lever-style door handles and faucets. Lever-type handles are easier to use than twist-type knobs or handles, and they're especially convenient for kids or anyone with limited dexterity. They're available in as many styles and finishes as other faucets and handles, at comparable prices.
Hand-held shower. These versatile shower heads attach to a flexible hose that makes them easy to use while sitting. Many have a 'trickle' or 'pause' setting that allows you to shave or wash your hair without wasting water. They're also good for cleaning the shower stall or bathtub. Hand-held units are no more expensive than fixed shower heads.
A shower bench. Choosing an acrylic shower surround with a built-in bench costs no more than a plain stall, and adding a built-in corner bench to a tiled shower costs around $150 to $250 extra. A folding, waterproof shower seat that attaches to the wall costs $150 to $500.
Tall toilets with no-slam seats and lids. Toilet seats with soft-close mechanisms are great for small children — or anyone who's accidentally banged a seat shut in the middle of the night. Test-drive one in a showroom to see if you agree; a soft-close seat is $35 to $65. Tall toilets are 16 to 18 inches high compared with the standard 14 or 15 inches. Additional cost for a tall toilet is minimal, around $50 more for comparable styles.
Wall-mounted sinks. To provide space beneath a bathroom lavatory for wheelchairs or other mobility devices, consider a wall-mounted sink. Wall-mounted sinks have no vanity cabinet or supporting legs underneath, which makes cleaning floors a snap. Depending on the style, some have shrouds that conceal drain traps and water supply tubes under the sink. Expect to pay $200 to $1,000 and up.
Wheelchair clearance. Wheelchair-accessible bathroom dimensions require clear space of at least 5 feet (60 inches) in diameter to allow a 180-degree turn. If space is at a premium, consider keeping the room open rather than compartmentalizing the toilet so that a wheelchair's turning radius can be accommodated.
Slip-resistant tile. Ceramic flooring tile has a jargon-y rating called a COF — coefficient of friction. All that means is how resistant the tile is to slips when wet. A COF of .60 or above is safe for bathrooms and meets or exceeds safety requirements of the Americans with Disabilities Act. Slip-resistant tile doesn't cost more than tile with a lower COF."
For more information about living in the Hill Country and building a custom home in New Braunfels, visit Vintage Oaks. The fastest-growing community in the area for four straight years, Vintage Oaks is located in the heart of New Braunfels on the Texas Wine Trail, and offers a range of Hill Country land for sale as well as semi-custom and custom homes, plus famed resort amenities including multiple pools, a lazy river, walking trails, ball fields and courts, and a Tuscan clubhouse.
You can also click below to start your search.