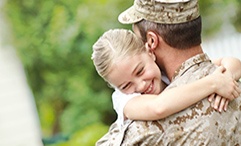 Are there veterans in New Braunfels? Is the city a good place for veterans? Former military love this friendly, growing city and, especially, popular masterplanned communities like Vintage Oaks. Turns out military are also helping grow the real estate market in the city.
"Being on the outskirts of San Antonio, or 'Military City, USA' may be beneficial to the housing market in New Braunfels, said the New Braunfels Herald-Zeitung. "Newly released results from a study by the Real Estate Center at Texas A&M University showed veterans can be a stabilizing force in some housing markets. The study evaluated the New Braunfels-San Antonio area, as well as other base-heavy cities, on how the military influences Texas housing markets."
U.S. Census Bureau data shows that veterans make up approximately 6% of the population in New Braunfels, although that number is higher in Vintage Oaks; More than 30% of Vintage Oaks households are comprised of at least one active or retired member of the military. "Veterans and active military members alike could be affecting the local home buying market," said the Herald-Zeitung.
That's because veterans "tend to buy homes near military installations such as bases," according to Josh Roberson, a senior data analyst with the Real Estate Center at Texas A&M University. Vintage Oaks is located on the Texas Wine Trail in New Braunfels, convenient to Joint Base San Antonio, within a half hour of downtown San Antonio and offering easy access to veteran's services in the area, including the New Braunfels VA Clinic. It's also just 45 minutes to downtown Austin.
The veteran-friendly enclave of Vintage Oaks inspires many former military members to buy or build a home in the community. Being among so many other veterans and in a community that supports, welcomes, and celebrates them is key. The number of households with a military connection, along with the friendliness of the owners, were driving forces behind Sherry and Bob Cory's decision to build a custom home in Vintage Oaks. It was "the sense of community…and the military background," they said. "We are all prior military. We met a couple of our neighbors before we even moved in. When we were building, they would just stop and say, "'Hey, we're your neighbors, when are you moving in?' There are always people outside, walking together, talking together, stopping along the way to talk. This is just perfect."
Steve and Amy Caberto first fell in love with Vintage Oaks and built their first custom home in 2012; They built a second home in the community when land became available up in the hills. The idea was to recreate the "amazing view" the couple enjoyed while living overseas during Steve's time in the Air Force. Now living in their dream view home, the couple is enjoying daily life and all the events and activities Vintage Oaks offers. "We enjoy the pool, Lazy River, BBQ area, sports areas, and walking/biking trails," said Steve. "Amy has participated in a Bunko group, and we have participated in the Wine club. In addition, we have attended the live concerts and the various family events. Once I fully retire, I hope to become more involved in a golf group and will soon become involved in the new Veterans group."
Derek and Kim Young chose Vintage Oaks when looking for a family-friendly and veteran-friendly community that was convenient to San Antonio, where Derek works, and offered an environment that was different than the cookie-cutter experience they had while living in Houston. "We did our research and discovered Vintage Oaks," said Derek, who is retired from the Navy. "Right off the bat, we fell in love. It was exactly what we wanted in terms of location, with homes that don't all look alike look, a scenic, natural setting, and incredible amenities like the pool and lazy river. A sense of community was also very important to us, and we found that here with so many planned activities and a nice diversity mix in terms of culture, ethnicity, age, and a heavy military presence. Neighbors are open to meeting new people, which is great. Overall, it's such a wonderful gem in the Hill Country."
Vintage Oaks includes a special spot to honor and celebrate veterans at the scenic Timber Ridge Park. Veterans' Walk is a stone commemorative pathway featuring individual markers for honored veterans, some dating back to the Revolutionary War. The monument also features benches where those who come for a visitor can sit to reflect on the commitment of veterans. Vintage Oaks developer SouthStar Communities and non-profit Operation FINALLY HOME (OFH) have also partnered on 11 mortgage-free homes for American heroes, including several at Vintage Oaks.
Vintage Oaks is the fastest-growing community in the San Antonio area for five consecutive years thanks to its variety of Hill Country land and New Braunfels homes for sale, resort amenities, and beautiful setting. This 3,900-acre masterplanned community offers acreage homesites ranging from 1 to 14 acres in gated and non-gated neighborhoods as well as custom, semi-custom homes, and Quick Move homes.
On-site resort amenities including multiple pools, a lazy river, miles of walking trails, ball fields and sport courts, a Tuscan clubhouse, and a year-round calendar of community add even more appeal. The just-opened, 7,800-square-foot Fitness Club has added even more desirable on-site amenities, with cardio and weight equipment; indoor and outdoor classroom space; an outdoor fitness area; personal training areas; an age-restricted pool; Saunas; an outdoor spa; and locker rooms.
You can also learn more about available veteran resources below.