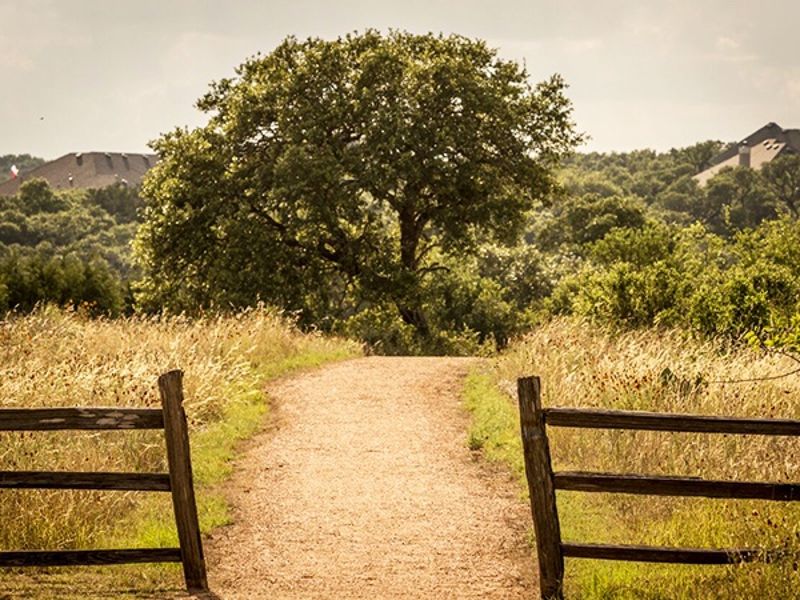 Residents of New Braunfels would be hard pressed to find a better location to call home than Vintage Oaks. With its convenient access to Canyon Lake, Schlitterbahn, and numerous other amenities, residents of Vintage Oaks enjoy a wealth of recreational opportunities right outside their front doors. One of the most prized and utilized amenities are the miles of hiking trails within the masterplan that boost community health by providing opportunities to improve physical fitness.
Vintage Oaks Hiking Trails
Vintage Oaks features 5 miles of walking trails that offer a fitness challenge to neighborhood residents. The trailhead begins at the community's resort-style clubhouse, which provides easy access to the Lazy River, pool, playground, and more. Enjoy the naturally spectacular topography and natural scenery that Texas Hill Country has to offer.
The Benefits of Hiking for Health
Hiking is a great way to increase your endurance, boost cardiovascular health, and burn calories. It also has several other documented physical and mental health benefits:
It's a Better Workout Than Walking!
Brisk walking can be a good way to improve your overall fitness level, but hiking's naturally rougher terrain takes your workout to the next level. When your hike includes hills, it uses different muscle groups and forces your heart to work harder. Navigating the changing terrain of a hiking trail naturally engages your core muscles and improves your balance skills. It's difficult to replicate those benefits elsewhere, even when running on a treadmill or riding a stationary bike.
If you have problems with your vision or balance, try using walking or trekking poles that add both security and comfort to your walk.
Hiking Helps Relieve Stress
Another benefit unique to hiking is that it provides a natural form of stress relief. It's no secret that communing with nature can have a restorative, stress-relieving effect. Studies show that spending time in natural settings – such as woodlands, hiking trails, and nature preserves – can take the edge off of people's stress levels. In addition, the act of exercising itself can provide a natural form of stress relief.
Chronic stress is a risk factor for many medical conditions, such as heart disease, high blood pressure, and even anxiety and depression.
Hiking Helps Improve Relationships
Though some appreciate the solitude that comes with being in nature, hiking also provides a great social opportunity to connect with friends and family while getting some exercise. Grab a new neighbor or encourage the whole family to hike along the trail as a group. Enjoying the challenge of a good workout together can help you break the ice, forge new bonds, or strengthen the ones you already have.
Tips for Hiking the Trails
If you're looking to go hiking for the first time, heed some simple tips to make the most of your experience:
Don't spend money on extra equipment. It may be tempting to rush out and buy the best hiking boots or equipment, but you won't need them at first. Wear comfortable shoes that are broken in on your first time on the trails. If your balance is poor, a pair of trekking poles can be helpful.
Wear loose-fitting, comfortable clothing that protects your skin from the sun. The UV index in Texas can be high from early spring to mid-fall, so address accordingly. UV protective clothing and sunscreen are essentials for your first hike and beyond.
Choose the right trail for your fitness level. The trails around Texas Hill Country range from flat to challenging. If you're just starting out, choose a trail that is relatively flat. Just outside of Vintage Oaks, there are other trails that loop around Canyon Lake and other parts of our naturally rugged landscape. Vintage Oaks trails provide the perfect opportunity to condition yourself for some of the more physically demanding trails in the area.
If you're looking for an opportunity to spend time with friends and reap cardiovascular and stress relieving benefits, try the 5 miles of hiking trails available at Vintage Oaks. Our master-planned community is dedicated to enhancing the health of the neighborhood and its residents, and offers several opportunities to improve fitness while enjoying time with family and friends.
For more information about hiking trails in Texas Hill Country, visit Vintage Oaks. Vintage Oaks is a 3,900-acre masterplanned community featuring Texas land for sale from one to 14 acres priced from the $90s and a variety of custom and semi-custom homes, plus spectacular Hill Country views and towering oak trees. Owners enjoy amenities including three pools, a lazy river, children's playgrounds, tennis and basketball courts, sporting fields, and the stunning Tuscan clubhouse. The year-round calendar of events and activities for all ages includes the Summer Concert Series in Timber Ridge Park, dining out groups, Bunco groups, swim-in movies, yoga classes, Wine Night, Halloween Trunk-or-Treat, and the annual holiday event in the community, complete with a snowy sledding hill.
The new Fitness Club at Vintage Oaks gives owners a world-class facility right in the community, with 7,800 square feet of space including: large indoor/outdoor classrooms; a lap and fitness pool; Precor cardio and Life Fitness weight equipment; a hot tub; locker rooms; and more than 100 group exercise classes per month including yoga, water aerobics, and boot camps.
The fastest-growing community in the Hill Country for five consecutive years, Vintage Oaks has no city taxes and offers the ability to choose your builder and build when you're ready.
You can also check out the fast-selling newest land release below.