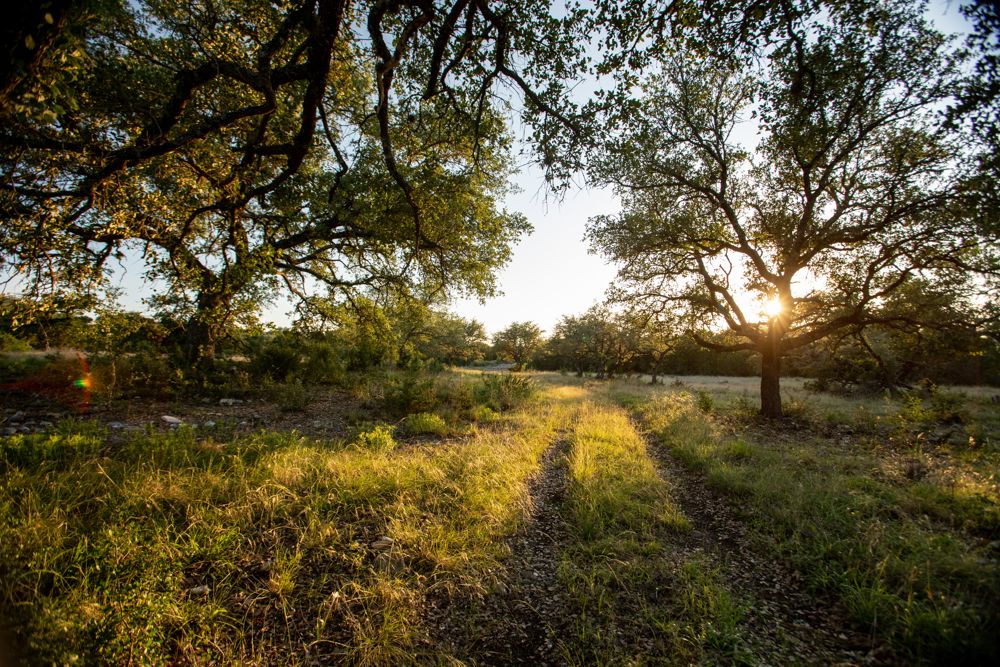 When considering a move, one of the first questions most people ask themselves is, "What will the weather be like?" If you're considering a move to New Braunfels, you will likely be pleased with the answer. There are some common misconceptions about the weather in Texas, for example, that the seasons are "hot, hotter, broiling, and slightly less hot." While it's true that Texas trends toward the warm side, the heat is hardly unbearable. Instead, the "dry" heat that persists throughout Texas Hill Country makes for four seasons of fun in the sun. Here's what you need to know about the weather in New Braunfels all year long.
Does New Braunfels Get Any Snow?
If you have a vengeful relationship with your snow shovel, take heart; You won't be needing it in New Braunfels. In fact, the average snowfall in New Braunfels is 0 inches per year. That's contrasted with the U.S. average, 28 inches.
In fact, if you move to New Braunfels, you could enjoy an average of 226 sunny days each year. The nationwide average is 205 sunny days.
That doesn't mean that there isn't any precipitation in New Braunfels, however. The city averages 34 inches of rain each year, which is right around the U.S. average. Throughout the year, you can expect around 76 days a year of precipitation (which is measured as .01 inches of rain, snow, sleet or hail).
Does It Ever Get Cold In New Braunfels?
With New Braunfels; southern setting, some will be surprised to learn that the city does experience some cooler temperatures. In fact, the coolest point of the year usually occurs in January, where the low averages around 39 degrees. That's not cold enough to snow, but it is cool enough to bring sleet or even the occasional freezing rain to the area.
Because of its relatively temperate winters, however, you can also expect some summer swelter. The average high point of the year is in July, when average high temperatures are around 94 degrees.
What Are Summers Really Like?
Some people may wonder what it's like to experience temperatures well into the 90s all summer long. The truth is that the 90s here feels less oppressive than other places. The factor that helps determine the comfort level of the heat – relative humidity – helps take the edge off the temperature. The average humidity in July, for example, hovers around 60%. Contrast that to places that have similar summer temperatures but higher humidity – like New Orleans or Houston (that can have an average humidity of over 80%) – and you'll find that the heat in New Braunfels can actually feel quite temperate.
Overall, summers in New Braunfels trend toward very warm and can be muggy at times. This makes it a great opportunity to relax poolside or cool off at the local waterpark. In fact, New Braunfels offers more time for fun in the sun than most; The peak times for rafting, kayaking, tubing, or participating in other water sports is mid-April through late September.
Ways to Enjoy The New Braunfels Weather
Wonder how you're going to spend your time in sunny New Braunfels? Here are a few suggestions for making the most of the sun and warmth.
Visit our German-themed waterpark, Schlitterbahn, which is the largest waterpark in Texas.
Grab an inner tube and float down one of our two rivers, framed by Cypress trees.
Go to the Vintage Oaks amenity center, complete with a Tuscan-resort style pool, Lazy River, and kid area.
Enjoy the bountiful produce that local farmers can grow all year long thanks to seasonable growing conditions.
Cool off by checking out the local spelunking scene! Try something new and explore the area's caverns and caves with a tour guide.
Take in a game of sand volleyball at Landa Park.
Enjoy the Temperate Climate of New Braunfels
In New Braunfels, you can enjoy the warm temperatures that make Texas Hill Country a desirable place to live. Whether you are looking to take a new job, start a family, or retire, New Braunfels has something for everyone. Since the winters are relatively warm – with lows in the 40s and highs in the 60s – you will never have to shovel snow again! Though summers can be warm, there are plenty of ways to enjoy a reprieve from the summer heat. Come to New Braunfels – warm weather and sunshine are waiting for you!
Living in New Braunfels
For more information, visit Vintage Oaks. Vintage Oaks is a 3,900-acre masterplanned community featuring Texas land for sale from one to 14 acres priced from the $90s and a variety of custom and semi-custom homes, plus spectacular Hill Country views and towering oak trees. Owners enjoy amenities including three pools, a lazy river, children's playgrounds, five miles of nature trails, tennis and basketball courts, sporting fields, and the stunning Tuscan clubhouse. The year-round calendar of events and activities for all ages includes the Summer Concert Series in Timber Ridge Park, dining out groups, Bunco groups, swim-in movies, yoga classes, Wine Night, Halloween Trunk-or-Treat, and the annual holiday event in the community, complete with a snowy sledding hill.
The new Fitness Club at Vintage Oaks gives owners a world-class facility right in the community, with 7,800 square feet of space including: large indoor/outdoor classrooms; a lap and fitness pool; Precor cardio and Life Fitness weight equipment; a hot tub; locker rooms; and more than 100 group exercise classes per month including yoga, water aerobics, and boot camps.
The fastest-growing community in the Hill Country for five consecutive years, Vintage Oaks has no city taxes and offers the ability to choose your builder and build when you're ready.
You can also check out The Bluffs, the most popular community in the history of Vintage Oaks, below.