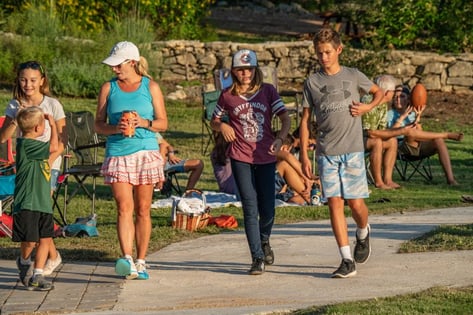 As uncertain times continue, Hill Country residents, realtors, and visitor's bureaus alike have noticed one key trend—the uptick in people visiting, moving to, and living in the Texas Hill Country. Towns and cities in the area are experiencing a bit of a renaissance as people in larger metropolitan areas head for the hills for accessible weekend recreation. Still, others are looking to relocate more permanently and are purchasing homes in the heart of Hill Country.

As Texans and out-of-state individuals alike search for homes for sale in New Braunfels, Fredericksburg, Greune, and Leon Springs, outsiders may wonder—why is the Hill Country the place to be right now? We've constructed a short list to answer that question.
Low Cost of Living
Texas is known for its overall low cost of living; 10 of the top 25 most inexpensive places to live in the US are located in Texas. This distinction carries over to the Hill Country, which features many small towns and medium-sized cities to call home. The median value of homes for sale in New Braunfels is around $275,000, with a relative variety of homes on the market.
Spacious Lot Sizes
They don't say "everything's bigger in Texas" for no reason—the lot sizes and apartment sizes in Texas' larger cities are spacious compared to most large metro areas. In the Hill Country, that goes double. Wide-open spaces are everywhere, with many lots spanning multiple acres. Homes for sale in New Braunfels, for example, tend to incorporate anywhere from 2 to 14 acres.
Consistent Economy and Job Market
Even when other areas of the US are struggling, the Hill Country continues to thrive. Regularly in top-10 lists for both state and local economic growth, Texas and Hill Country cities like San Antonio and New Braunfels boast a thriving economy. For the Hill Country, in particular, even the smallest towns and cities experience a robust job market and economic situations due to their status as a weekend getaway amidst the health crisis.
Recreational Opportunities
Whether you like to tour the rolling hills of the Texas Wine Trail and visit the many festivals the area promises once the state fully reopens, or prefer a more primitive experience, Texas Hill Country has a little something for everyone. The area boasts a wide variety of rivers, lakes, and scenic views, not to mention local shopping and dining. Better yet, larger cities are just a short trip up I-35, meaning Hill Country residents can experience the best of both worlds as the mood strikes.
Begin Your Hill Country Property Search With Vintage Oaks
If the Hill Country is calling to you, begin your search with homes for sale in New Braunfels. Located in beautiful New Braunfels in the heart of Hill Country, Vintage Oaks boasts private homes on multi-acre lots with all the amenities you'd expect in the big city. You'll find four swimming pools, a lazy river, tens of miles of hiking and walking trails, as well as some genuinely spectacular Hill Country views.

Best of all, you'll be situated in one of the best parts of Hill Country, with easy access to both Austin and San Antonio. At the same time, you'll experience all small-town Hill Country living has to offer in New Braunfels. For more information about Hill Country, New Braunfels, and living in the area, contact Vintage Oaks today.
Resources
https://www.zillow.com/new-braunfels-tx/home-values/
https://www.usatoday.com/story/money/2019/08/01/economic-growth-by-state-gdp-fastest-growing-shrinking-economies/39822123/
https://www.kwsanantonio.com/news/the-texas-hill-country-more-land-more-house-for-your-money/
https://www.kens5.com/article/news/health/coronavirus/road-trip-anyone-texas-hill-country-seems-to-be-at-the-top-of-peoples-lists-amid-the-coronavirus-pandemic/273-b1f4761c-cb06-414e-aa0c-346d7895a776
https://www.businessinsider.com/us-cities-with-the-lowest-cost-of-living-2016-7#1-wichita-falls-texas-25