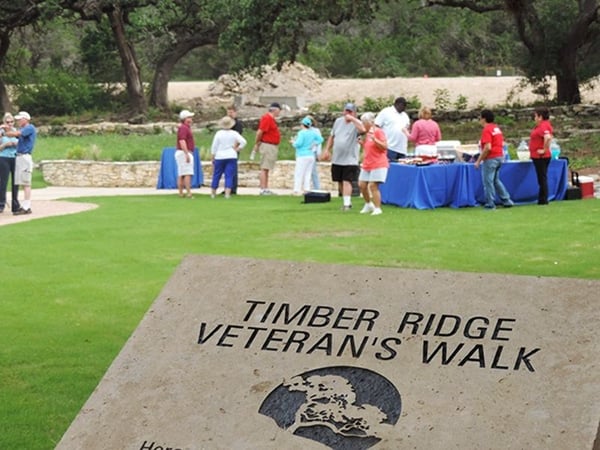 Vintage Oaks is the fastest-growing community in the San Antonio area for five consecutive years thanks to its variety of Hill Country land and homes for sale, resort amenities, and beautiful setting. Largely, that's why veterans choose Vintage Oaks. But, there are countless other reasons this New Braunfels new-home community appeals to this segment of real estate buyers.
More than 30% of Vintage Oaks households are comprised of at least one active or retired member of the military. Why is this masterplanned community so ideal for those who proudly serve the country? Let's countdown a few of the reasons.
The stellar location
Vintage Oaks offer easy access to veteran's services in the area, including Randolph Air Force Base, the New Braunfels VA Clinic, and the San Antonio Military Medical Center (SAMMC) on Fort Sam Houston in San Antonio. It's also minutes to all the amenities of New Braunfels, within a half hour to downtown San Antonio, and 45 minutes to downtown Austin.
The welcoming, veteran-friendly environment
The warm and inviting nature of Vintage Oaks inspires many Hill Country land and homebuyers to consider the community. For veterans, it is often one of the driving forces behind a move here. Being among so many other veterans and in a community that supports and welcomes them is key.
Flexibility
As former military consider their options for buying land and building a custom home in the Hill Country, timing often comes into play. The fact that Vintage Oaks offers timeframe flexibility is important to those who may not want to build their home right away. Buyers at Vintage Oaks can purchase their land now and build when they wish, and use their builder of choice.
The commitment of Vintage Oaks and SouthStar Communities
When Vintage Oaks developer SouthStar Communities was designing the Timber Ridge neighborhood, it was important not just to include a beautiful park that features play and green space as well as scenic views, but also a special spot to honor and celebrate veterans. Amongst the majestic, 300-year-old oaks trees and 10-acre wildflower field, the park includes the Vintage Oaks' Veterans' Walk. This stone commemorative pathway features individual markers for honored veterans, some dating back to the Revolutionary War. The monument also features benches where those who come for a visitor can sit to reflect on the commitment of veterans.
SouthStar Communities and non-profit Operation FINALLY HOME (OFH) have also partnered on 11 mortgage-free homes for American heroes, including several at Vintage Oaks.
Find out more about why veterans choose Vintage Oaks here. Vintage Oaks is a 3,900-acre masterplanned community that offers acreage homesites ranging from 1 to 14 acres in gated and non-gated neighborhoods as well as custom, semi-custom homes, and Quick Move homes. On-site resort amenities including multiple pools, a lazy river, miles of walking trails, ball fields and sport courts, a Tuscan clubhouse, and a year-round calendar of community add even more appeal. The just-opened, 7,800-square-foot Fitness Club has added even more desirable on-site amenities, with cardio and weight equipment; indoor and outdoor classroom space; an outdoor fitness area; personal training areas; an age-restricted pool; Saunas; an outdoor spa; and locker rooms.
You can also request a copy of the interactive map of the Vintage Oaks' newest release below.