Choose the Best Home Furniture to Fit Your Personality and Your Room
You've purchased a new home and now it's time to find the right home furniture. At this point, you've probably decided between a traditional or modern look and set a budget. Have you considered the type of designs you like and what colors you can live with for a while?
Fred Albert, Houzz contributor, explores the next essential stage in the design process, choosing the right furniture.
The first thing he suggests is to take inventory of what you already own. If it was inexpensive and doesn't fit your vision, get rid of it. Your trash might be someone else's treasure. Many people are now using Craigslist and Facebook garage sale groups to sell furniture for cheap but it's free of the hassle of having to move it yourself. If you want to keep an old piece and give it a facelift, try giving the piece a new upholstery to add a touch of color or modern flare!
What to Buy
Allison Caccoma, of Caccoma Interiors, offers a great next step in this decorating process. Put your design skills to work before you make any purchases. Sit down and figure out everything you need to complete a room; not necessarily creating a shopping list, but ideas of pieces in the colors and styles that you want."People often make the mistake of buying an item, and then are locked into decorating the room around that one item," Caccoma says.
Now it is time to find the perfect home furniture. Quality is key, says Claudia Juestel of Adeeni Design Group. Be prepared to spend a little more on the furniture that is going to be used often. You want to be comfortable and good quality sofas and chairs cost more. When it comes to picking the colors of your larger and more expensive pieces, Caccoma advises to stick to neutral colors and use accessories to add color and personality to a room.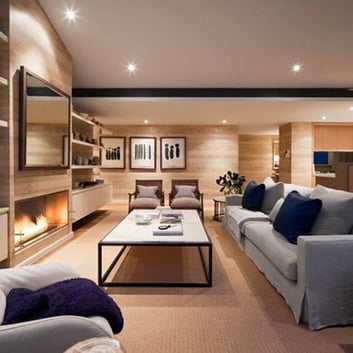 Image Source: Homedit
Where to Go
Albert looks to Juestel for suggestions of where you should buy home furniture. Consider your finances, the quality you want and your style when deciding, she says. If you are more the type that knows what you want and maybe choosing home decor is not your idea of fun, hit the furniture stores. If you like unique pieces with a story that you prefer to just stumble on, antique stores are a great place to find things that express your personality. Trying to complete a large space on a specific budget? Try local consignment and secondhand stores or shop Craigslist.
Are you ready to make a change a little larger than just switching out your home furniture? Vintage Oaks has many available Hill Country land and home offerings set in the middle of beautiful Texas Hill Country. Learn more about our community and the wide array of builders available to build your next home that fits your style perfectly.
You can also click below to download our free Guide to Building a Home in the Hill Country and equip yourself with the knowledge to build the home of your dreams!