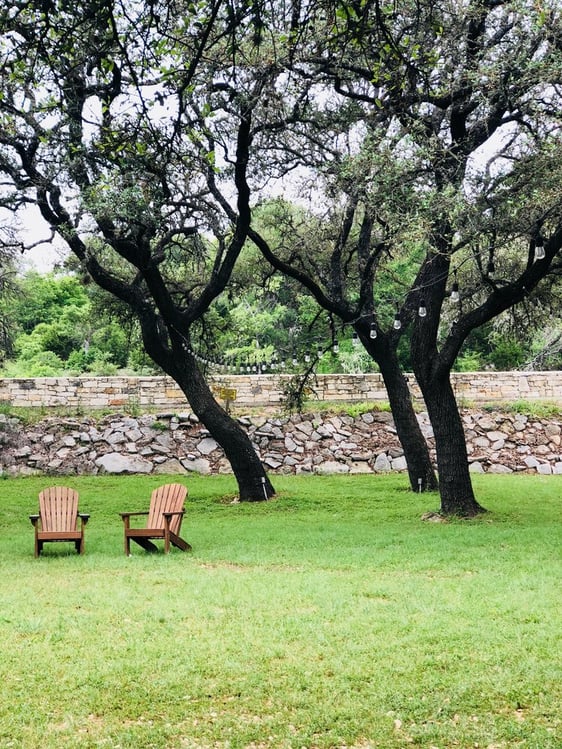 Truth be told, Dry Comal Creek Vineyards would be one of Vintage Oaks owners' favorite places to spend some time sipping wine and enjoying the lush surroundings even if it wasn't right across the street from Vintage Oaks! That convenience is a gift because it means having unmatched access to tastings and special events, like Saturdays in the Vineyard. A great glass of wine (or two!), live music, and great eats—what could be better?!
This Saturday from 1­–5pm, guests will enjoy acoustic tunes from Colton's Kin, making their exciting return from maternity leave, and food from Southern Gourmet on Da Geaux. Bring your appetite and try to order just one of their specialties, which include jambalaya, catfish, gumbo, and etouffee.
About Dry Comal Creek
Dry Comal Creek is run by proud Texans who, in 2018, began using 100% Texas grapes for their Texas wines. Well-known for their Black Spanish, the winery also offers a wide range of wines from Tempranillo to Comal Blanco to Sangiovese. Vintage Oaks is so fond of Dry Comal Creek and their wines that they share a bottle with each of their new owners as a closing gift. It's not unusual to find owners spending time at the winery long after they have built or bought their home in the community.
If you're stopping by Dry Comal Creek for Saturdays in the Vineyard this weekend, be sure to leave some time to visit Vintage Oaks during the Grand Opening of their brand-new Fitness Club and First Annual Fitness Expo, from 11am–3pm. Guests will have an opportunity to tour the new 7,800-square-foot facility's indoor/outdoor classrooms, lap and fitness pool, cardio and weight equipment, and hot tub, and check out the full calendar of group exercise classes including yoga, water aerobics, and boot camps. They will also be able to participate in breakout fitness sessions, mingle with local fitness professionals, and sample healthy foods.
While you're here, take a drive through the community, along winding country roads, past twisty oaks and some of the other famed resort amenities that have helped make Vintage Oaks the fastest-growing community in the Hill Country for the past five years. And pay close attention to the many custom homes filled with happy owners who can't imagine living anywhere else—you may want to use one or two for inspiration to build your own custom home in the community.
If you want a closer look at available homes and land for sale at Vintage Oaks, as well as amenities including the many pools and lazy river and Tuscan clubhouse, schedule a tour or come into the sale office.
For more information, you can also visit Vintage Oaks. This 3,900-acre masterplanned community offers acreage homesites ranging from 1 to 14 acres in gated and non-gated neighborhoods as well as custom, semi-custom homes, and Quick Move homes. Located in New Braunfels, one of the fastest-growing cities in the nation, Vintage Oaks is convenient to the city's bustling employment hub and within easy commuting distance to both San Antonio and Austin, yet is nestled in a tranquil, nature-rich area right on the Texas Wine Trail that boasts breathtaking Hill Country vistas. Vintage Oaks' resort-style amenities also include five miles of meandering nature trails, and numerous parks, sport courts and ball fields, as well as a full calendar of events and activities for all ages.