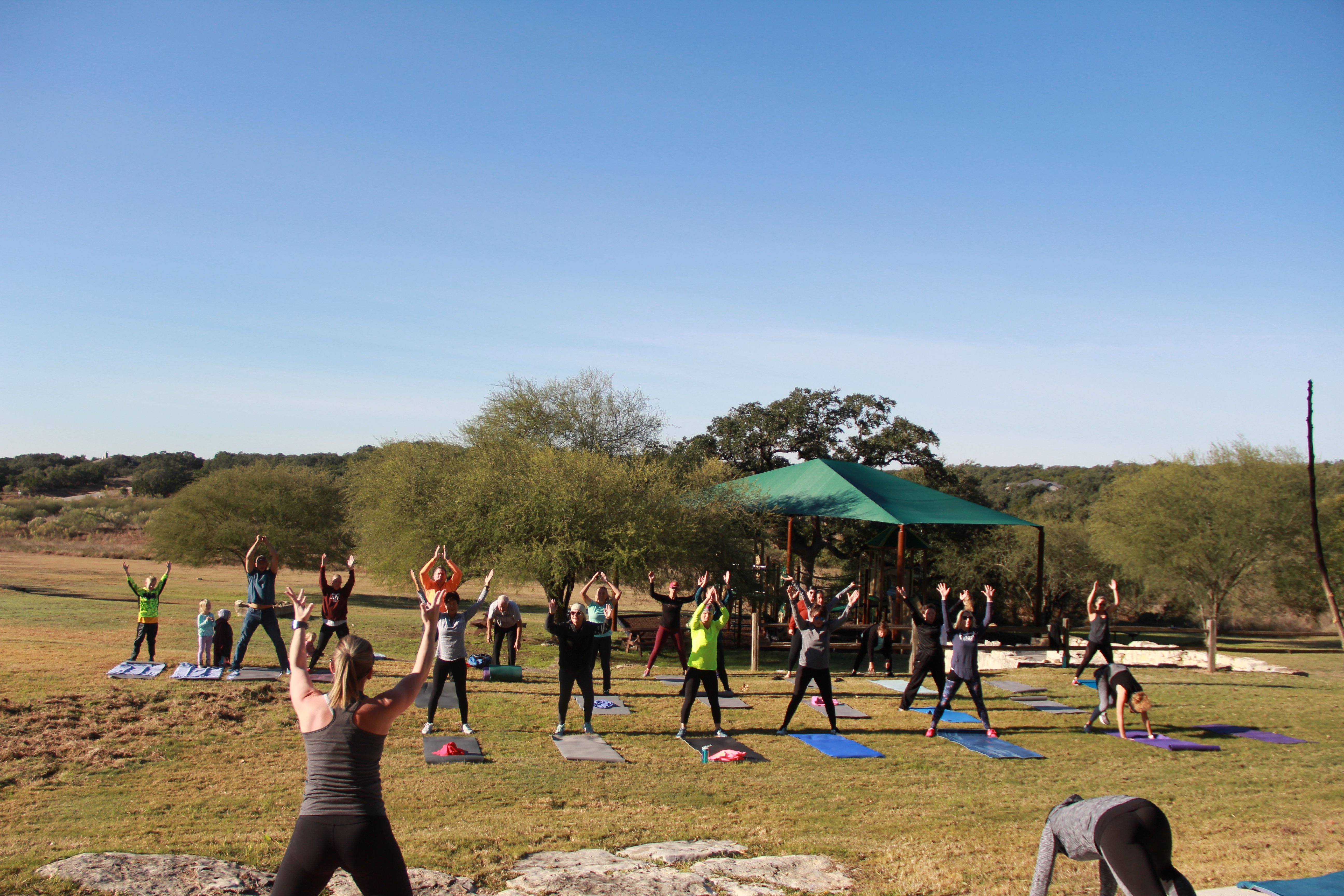 The Vintage Oaks Fitness Club vastly increased the fitness options in the community when it opened earlier in the year. This beloved amenity offers residents a wide array of fitness options including personal training areas, an age-restricted pool, and more than 100 fitness classes per month. And owners in the community are still finding other great ways to enjoy getting fit with friends at Vintage Oaks, such as Family Fit in the Park.
Fitness Club instructors recently taught a one-hour Saturday morning workout for all ages at Vintage Oaks' Timber Ridge Park, and the turnout was so good that there are already plans for another such event in the works. "This is one way we are trying to get the community as a whole involved in creating a healthier lifestyle," said the club's Fitness Coordinator, Dottie LeBlanc. "Fun events like this allow for residents to meet each other in a different atmosphere creating a very different sense of community. All of the instructors are working together to come up with more events like this where we can bridge the gap and bring together all ages. Making health and wellness fun is our goal."
Twenty neighbors attended the morning workout, ranging in age from three to the 80s. Residents participated in a total body warmup by LeBlanc, followed by cardio and body weight training with Jenni Ericksson and Tina Sena and closing with a relaxing stretch led by the club's newest neighborhood Yogi, Dawn Brown. "Jenni also did an amazing job of getting the kiddos involved by having them throw workout dice to pick the exercises," said LeBlanc. "The kids even stayed up front to help lead that part of the workout. We also had drawings for prizes. Family Fit in the Park was definitely a hit!
The Fitness Club also recently started partnering with different facilities in New Braunfels "for events like a nutritional workshop and a self-defense class for women," said LeBlanc. "We plan to bring in an expert once a quarter, based on the interests shown by residents, in addition to our class schedule."
Those classes include HIIT, yoga, water aerobics, and other popular favorites. In addition, members of the 7,800-square-foot Fitness Club can make use of the cardio and weight equipment; indoor and outdoor classroom space; outdoor fitness area; saunas; outdoor spa; and locker rooms.
For more information, visit Vintage Oaks, the fastest-growing community in the San Antonio area for five consecutive years. This 3,900-acre masterplanned community offers a variety of Hill Country land ranging from 1 to 14 acres in gated and non-gated neighborhoods as well as custom, semi-custom homes, and Quick Move homes. Additional on-site resort amenities include multiple pools, a lazy river, miles of walking trails, ball fields and sport courts, a Tuscan clubhouse, and a year-round calendar of community events and activities.
You can also download the interactive map to see the newest property release in the community below.