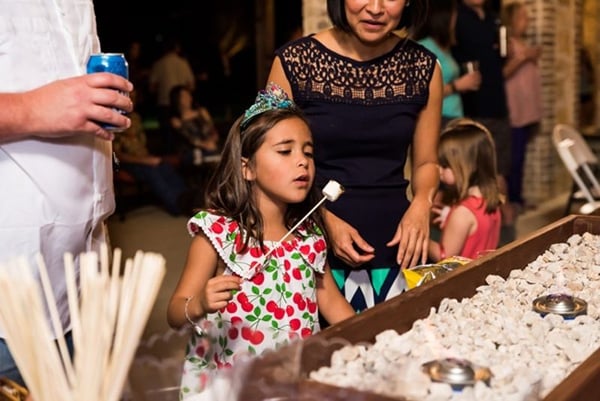 Ask a Vintage Oaks owner what their favorite thing about living here is, and they'll likely rattle off a long list that includes the amenities, the location, the serenity, the views, and right at the top: The year-round calendar of family-friendly events and activities that give them an opportunity to mix with neighbors and build new friendships. Family Night is always one of the favorite Vintage Oaks events, and owners are invited to come out this Saturday, March 2, to enjoy the revelry.
Held at the Vintage Oaks Clubhouse, Family Night will feature live music from Jay Eric & Blieder's Creek, performing country and classic rock hits in their signature style under the Clubhouse pavilion. Don't forget your dancing shoes! You'll also want to bring your appetite—we'll be serving hot dogs and chili, as well as the traditional Family Night S'mores bar. Looking for some great conversation with other Vintage Oaks owners? The roaring firepit is always a popular gathering spot.
A full calendar of Vintage Oaks events
Vintage Oaks events take place all year round, providing opportunities for enjoyment and recreation and supporting and celebrating all ages. The Summer Concert Series, dining out groups, Bunco groups, swim-in movies, and the annual Christmas party are just a few of the happenings owners love. The newly opened Fitness Club will also be the site of more upcoming events like the Fitness Expo, which recently took place as part of the exciting 7,800-square-foot facility's Grand Opening festivities.
You can check out the calendar of upcoming Vintage Oaks events here, or take a look at the gallery from last year's Family Night.
For more information, visit Vintage Oaks, the fastest-growing community in the San Antonio MSA for five years running. This 3,900-acre masterplanned community from renowned developer Southstar Communities offers Hill Country land ranging from 1–14 acres in both gated and non-gated neighborhoods and custom, semi-custom, and Quick Move homes for sale. Acclaimed resort amenities include multiple pools; a lazy river; a children's playground; ball fields and sport courts; miles of walking trails that wind through the masterplan; the brand-new Fitness Club; as well as the Tuscan Clubhouse, home to many of Vintage Oaks events and activities. The community is located in a scenic area right on the Texas Wine Trail between Austin and San Antonio that boasts breathtaking Hill Country views.