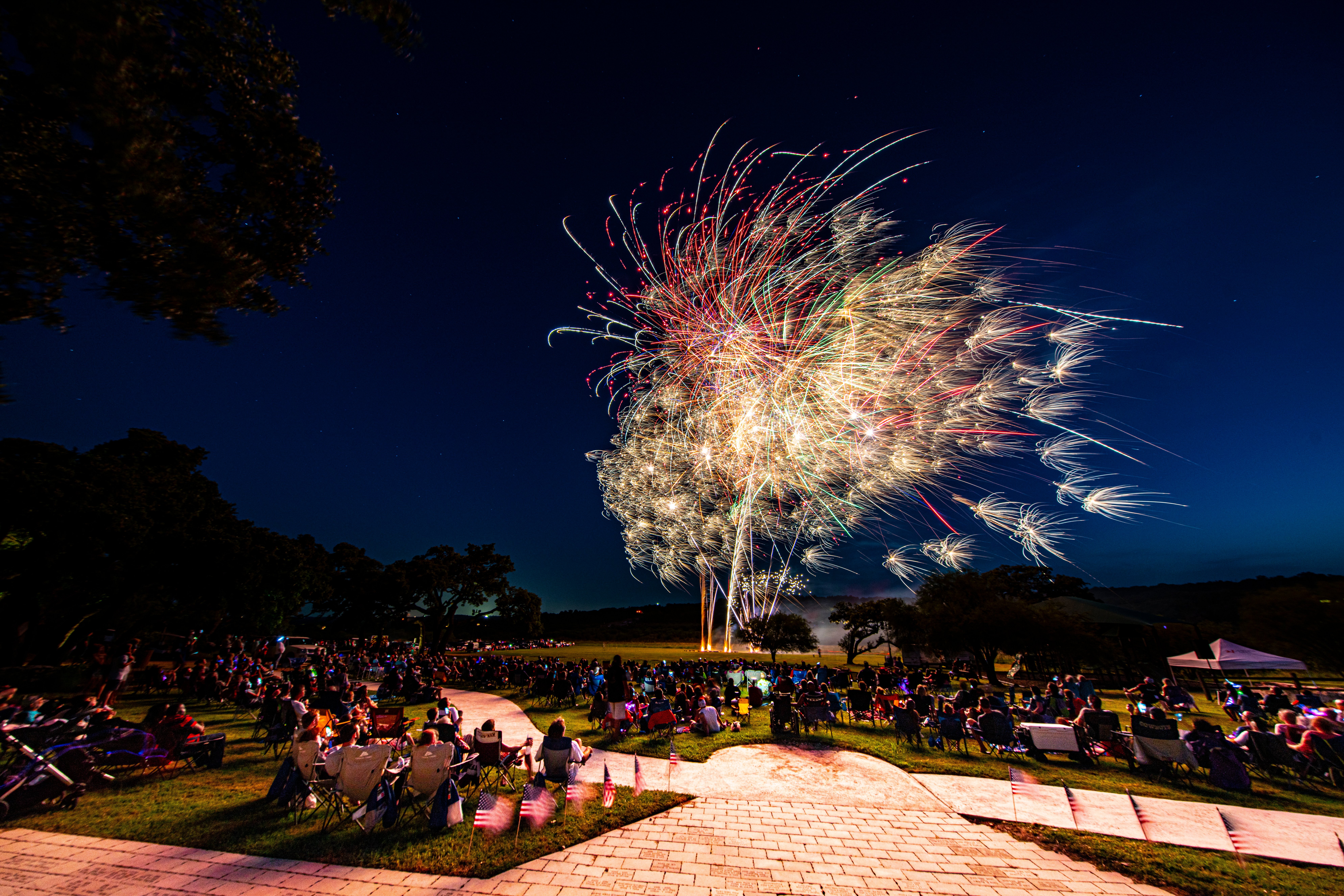 Vintage Oaks has always been envisioned as a warm and inviting place where new owners and residents feel welcome, neighbors can quickly become friends and everyone comes together for happy occasions. Judging from the huge crowd that gathered to celebrate the Fourth of July right here in the community, it's safe to say those visions have become reality.
This was the second year in a row that Vintage Oaks held its own fireworks celebration, and owners are saying it was the best display they have ever seen. More than 450 owners and their families arrived at the community's Timber Ridge Park in time to see the professionally produced show simulcast to patriotic music. Another highlight was watching all the kids enjoy themselves, running and playing with their glow sticks.
Special events these take place year round at Vintage Oaks, creating an environment in which owners can slow down and appreciate family, friends, and community. These experiences are rare in today's fast-paced world, but that's just one of the reasons Vintage Oaks has been the fastest-selling community in the San Antonio MSA for five straight years. Annual events such as the Easter Egg Hunt, Trunk and Treat, and Holiday Party bring people together at Vintage Oaks, while the activities planned and supported by the community's numerous owner-led groups and clubs further allow them to build friendships while enjoying favorite hobbies, or exploring new ones.
Neighbors also come together at the many pools, on one of the athletic fields, and at the new Fitness Center. In fact, Dottie LeBlanc, Vintage Oaks' Fitness Ambassador and a Certified Personal Trainer at the Fitness Club, has noticed how the social aspect of the Club is helping drive fitness goals for owners in the community.
"The fitness center has brought residents of all ages together and has created friendships based on health and wellness," she said. "Residents have loved the center since it has opened and they have shared their successes with others to encourage them to join in on the movement of health and wellness."
For more information, visit Vintage Oaks. This 3,900-acre community in New Braunfels is right on the Texas Wine Trail with easy access to San Antonio, Austin, and Houston, and highly rated schools. The community offers 1–14 acre homesites from the $80s including newly released properties in The Bluffs, which feature high-elevation homesites with long Hill Country views, and homes from the low $400s.