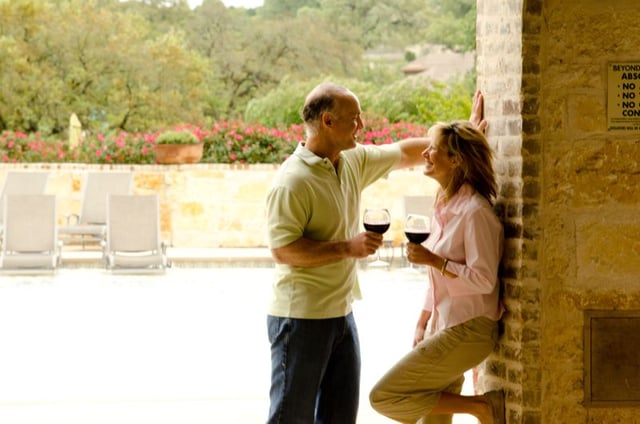 New Braunfels isn't just the second-fastest-growing city in the nation. It's also become a top place to retire. There are a number of factors influencing retirement in this favorite Hill Country city.
Geography
Paging the Golden Girls! It used to be that retirees headed for Florida when it came time to quit working and find that forever home. These days, retirees are more likely to head to areas they have always loved, like the Hill Country. Especially if their family is nearby. This New York Times article reported on the growing trend of grandparents moving to be closer to their grandchildren.
"Much of what grandparents decide to do depends on whether they have the relative freedom retirement conveys, what kinds of relationships they have with their grown children, whether they are married or living independently and their degree of real or perceived financial freedom," said the NY Times. "Often, the desire to live near adult children changes over time. Parents who might not have considered moving closer to their children change their minds when a grandchild comes along."
At leading New Braunfels masterplan Vintage Oaks, several landowners have bought in the community specifically to be close to family—not to mention for the opportunity to buy land in the Hill Country and build a dream retirement home in New Braunfels.
Jobs
Working part-time after retirement is a growing trend, and New Braunfels is the perfect place to do it. Austin and San Antonio are both within easy reach of the Texas Hill Country and both are friendly to retirees planning to work past the age of 65. New Braunfels' growing job market makes it even more convenient to find part-time work close to home when you retire in New Braunfels.
Lifestyle
"New Braunfels, TX is famous with tourists and retirees for its rich German heritage, festivals, and medical access," said TopRetirements.com. The website also noted that this rapidly growing town "offers the best lifestyle for the money for senior citizens in south central Texas. People love the people, weather, excellent health care, beautiful hill country and safe living environment, and many good restaurants. New Braunfels is overflowing with old world heritage and small town Texas charm."
Value
People today are applying the same smart investment strategies in retirement that they do during other stages of their life.
Real estate values in the Hill Country continue to rise. Data from the Texas Association of Realtors shows home prices are up in cities throughout the area, but the New Braunfels real estate market is particularly impressive, with home prices, active listings, and single-family homes sold all up and days on market down. That gives those who are looking to retire in Texas peace of mind as they embark on this new life stage.
Texas city also offers a great tax climate that is advantageous to retirees, as Great Retirement Spots pointed out. "Texas is considered a friendly place when it comes to taxes and retirement. There is no state income tax, so all forms of retirement income escape taxation, and there is no inheritance or estate tax. Homeowners receive a $15,000 homestead exemption from property taxes, and people age 65 or older receive an additional $10,000 exemption from school taxes (and $3,000 from other taxes)."
Taste
Gone are the days when retirees are willing to give up their sense of style just because they're nearing or have reached retirement age. Today's baby boomers are looking for an opportunity to showcase their style and meet their needs in a new home. Building a home at Vintage Oaks allows them to customize everything to their exact liking, which is one of the reasons the community is so often the choice of those retiring in the Hill Country.
Amenities
Staying active is an important part of retirement and many of today's retirees and pre-retirees are looking for opportunities to do that close to home. New Braunfels offers everything they're looking for, from entertainment, dining and culture, to great recreation and beautiful scenery. Within the Vintage Oaks masterplan, they can also enjoy a host of on-site amenities, including multiple pools, walking trails, a Tuscan Clubhouse, plus ongoing special events and activities all year round, that make living here even more attractive.
For more information, visit Vintage Oaks. This 3,300-acre master-planned community is located right on the Texas Wine Trail and offers land for sale in New Braunfels, as well as semi-custom and custom homes, in gated and non-gated neighborhoods.
You can also click below to download the Guide to Living and Retiring in the Texas Hill Country.