Vintage Oaks Magazine
winter 2018 Edition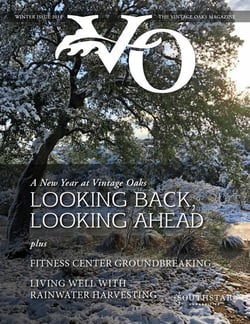 Download the community magazine!
What will you find in this Winter 2018 Edition?
Fitness Center Groundbreaking
Featured homes and homesites
Living well with rainwater harvesting
Area market stats
A look back at 2017 and ahead to 2018
Resident testimonials and more!
This magazine was produced by the experts at Vintage Oaks, the fastest-growing community in New Braunfels – which also happens to be the fastest-growing submarket in the San Antonio metro area.
Complete the form to access the Vintage Oaks Magazine!