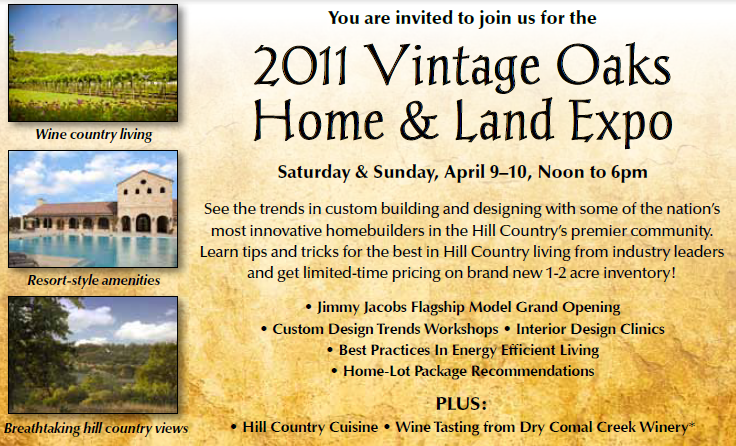 We are pleased to invite you to our first annual Home & Land Expo on Saturday, April 9, 2011 and Sunday, April 10, 2011 from 12-6 p.m. The event will take place at our community located at 1110 Vintage Way, New Braunfels, TX 78132.

Participants will have the opportunity to learn about trends in custom building and designing from some of the nation's most innovative homebuilders in the Hill Country's premier community. Featured renowned homebuilders include: Anderson-Jenkins Signature Homes, Jimmy Jacobs Custom Homes, Sierra Classic Homes, Stone Creek Custom Homes and Wilshire Homes. Tips and tricks for the best in Hill Country living will be offered from industry leaders. Limited-time pricing on new 1-2 acre inventory will also be available.

Highlights include Jimmy Jacobs Flagship Model Grand Opening, Custom Design Trends Workshop, Interior Design Clinics, Best Practices in Energy Efficient Living and Home-Lot Package Recommendations. Partakers can also enjoy local Hill Country cuisine and a wine tasting from Dry Comal Creek Vineyards & Winery.

This event is free for the public. For more information and to RSVP for this event, please visit http://www.vintageoakstexas.com/expo or call 888-259-5742.