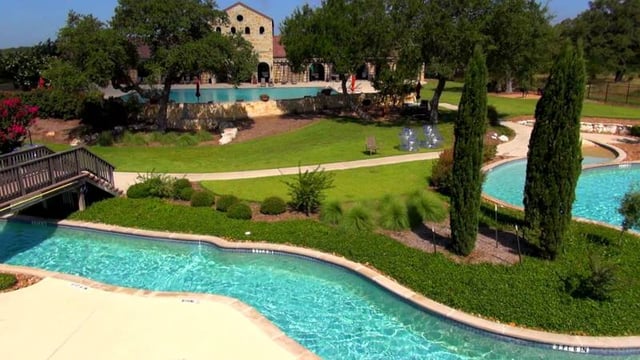 Looking to buy land in the Hill Country? You are probably looking at several different options, but make sure you spend some time at Vintage Oaks. Once you do a tour, see the New Braunfels land for sale and resort amenities, and discover the unique combination of charm and convenience, we think you'll do what so many Hill Country landbuyers have done and make Vintage Oaks your community of choice. After all, it's been the fastest-growing community in the San Antonio MSA for three years straight! Here's why:
The variety of Hill Country land for sale
Vintage Oaks offers acreage property ranging from one to 14 acres, in gated and non-gated neighborhoods. Cul-de-sac sites, super private locations, homesites in elevated settings with views spanning the entire Hill Country, equestrian land—if you can imagine it, you can find it here. And once you find that land, you'll be on your way to building your custom home in the Hill Country.
Semi-custom and custom homes
Perhaps you're not looking for Hill Country land for sale but would rather find a semi-custom or custom home in the Hill Country that's already been built. At Vintage Oaks, you can find a variety of both that reflect the Hill Country's unique style and showcase up-to-date floorplans filled with the latest features.
The views
People come from far and wide to get a glimpse of the Hill Country's famed views. But there's nothing like being able to enjoy them anytime you want, right from your backyard.
The resort-style amenities
You don't have to check in to the Four Seasons for five-star amenities in the Hill Country. Vintage Oaks residents enjoy them right outside their door. On-site amenities include:
Multiple pools
A lazy river
A children's playground
Walking trails
Ball fields and sport courts
Scenic parks
The events and activities
That Tuscan clubhouse is the site of numerous events and activities—those that are scheduled by Vintage Oaks throughout the year and those that residents plan themselves. Concerts, holiday events, pool parties, hikes, book clubs, and wine nights are just the beginning of Vintage Oaks events that residents enjoy.
The location
Being located between Austin and San Antonio, two of the most dynamic cities in the nation, is a draw in and of itself. But Vintage Oaks is also located in New Braunfels, the second-fastest growing city in the nation, giving it great access to the city's thriving job market and abundant amenities. Being set right on the Texas Wine Trail and directly across the street from the award-winning Dry Comal Creek Vineyards is another benefit. The Texas Wine Trail comprises unique 46 wineries stretching from "Austin to Fredericksburg and Lampasas to New Braunfels.
The residents
Want to know how people really feel about living at Vintage Oaks? Just listen to what a few of them have to say about it:
"It's not just the location in the Hill Country and the amenities, the two pools, the clubhouse, the lazy river…but it's the people who live here that make it most enjoyable."
— Ron and Judith Walton
"It's very family friendly, the schools are great. It's just quiet in the evenings, lots of wildlife and nature. We feel like we're part of the community in New Braunfels yet we're away from the hustle and bustle of everything and we're also close to 281, so we can get into San Antonio really quick."
— Lori Brown
"I think it's an incredible place to live. The one thing that makes a community is the kindness and the companionship of your neighbors. I already feel that community atmosphere."
— Ricki and Eric Holt
"The size of the lots as well as the peace and quiet were a big part of the decision to build in Vintage Oaks. The views are amazing. As we got closer to the build, we saw how wonderful the neighbors were. Many of our new neighbors offered to help any way they could during our build. The amenities are important to us, and they are exceptional and continue to grow and evolve."
— Scott Powell
You can read more resident testimonials here.
The builders
At Vintage Oaks, you can use your own builder. Many of the Hill Country's masterplanned communities require you to use one of their builders when building a custom home in New Braunfels or another area city. However, if you don't happen to have a builder you want to work with or you want recommendations for Hill Country builders, we can help there too.
The rules and regulations
Have you thought about how the different expectations of the community will affect your build? How about what it will be like to live in the community? In addition to being able to use your own builder at Vintage Oaks, you can also build on your timeline, which is not something all communities offer. The Vintage Oaks Property Owners' Association (POA) also helps to ensure community standards are met, properties build value, and residents are happy.
The development expertise
The knowledge and experience of the community developer is probably not top of mind when buying land in the Brazos Valley, but maybe it should be. SouthStar Communities has been acquiring, investing in, and managing healthy residential communities across the U.S. for close to 20 years, and is established as a proven leader in masterplanned development.
For more information, visit Vintage Oaks or click below to view new Hill Country homes now available.