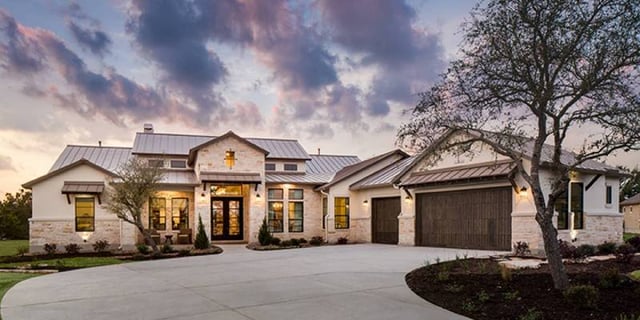 The reasons Texas homebuyers are using to move to New Braunfels, one of the fastest-growing cities in the nation, are vast. We've curated a top 10 that hits on some of the move important motivators.
The setting
Living in New Braunfels is like bringing a postcard to life. With rolling hills, sparkling lakes and rivers, towering oak trees, and abundant greenery, you'll never lack for something beautiful to gaze at.
The location
The ideal combination of big-city convenience and a calm, peaceful way of life—that's the unique flavor of the city and a great reason to move to New Braunfels. Here, you can enjoy being within an easy drive of both Austin and San Antonio while enjoying New Braunfels' country-like environment.
The growth
CNN Money named New Braunfels the ninth-fastest-growing city in the nation in 2017. "The small town charm of this San Antonio suburb is attracting people from all over the country," they said. This growth "exemplifies the pattern of population gains in mid-size suburban cities that surround large cities as more people move from rural to urban areas," said the San Antonio Express-News.
The economy
The strong local economy, marked by new business and industry, increased jobs, and new infrastructure, has made New Braunfels an economic hub. The Greater New Braunfels Economic Development Foundation has been responsible for: "9,798 new jobs created since 2003; job growth exceeds metro and state averages; and increased construction of office space inventory." While many residents commute into Austin and San Antonio, a growing numbers of locals are able to work in New Braunfels and neighboring San Marcos.
The Family Fun
Soak up a day of fun at Landa Park or head to Schlitterbahn to see why it's been voted the best water park for two decades. Natural Bridge Caverns is a favorite local hotspot, and Animal World & Snake Farm and the McKenna Children's Museum are two more great ways to explore the city's family-friendly amenities.
And then there's the music scene. "For a small Hill Country town, New Braunfels draws in a surprising lineup of major acts! Gruene Hall (a vital piece of country music history) continues to draw in big-name artists, while the spacious and scenic Whitewater Amphitheater allows for bigger crowds," said Keller Williams New Braunfels. "Beyond these venues, the local music scene continues to grow, featuring both exciting new acts and old favorites."
The shopping and restaurants
Restaurants from casual faves to fine dining and some of the best shopping in the state—including San Marcos' Premium Outlets, voted among the "Best places to shop" by the Austin Business Journal and named the third-best place to shop in the world by ABC's "The View—make New Braunfels a go-to spot.
The small-town feel
Despite New Braunfels' growth, the city, in many ways, still feels like a throwback. Expect to hear "Good morning," to have neighbors wave, and feel welcomed and invited as you explore the city. Chances are you'll immediately feel at home here.
The two sparkling rivers
"New Braunfels is home to two beautiful rivers: The Guadalupe and the Comal. The Guadalupe River flows into Canyon Lake and runs along River Road (which incidentally makes for a great Sunday drive)," said Keller Williams New Braunfels. "The Comal (a spring-fed river) flows through Landa Park and passes downtown before merging with the Guadalupe, making it a go-to spot for summer fun and our favorite sport: tubing!"
The recreation
Tubing isn't the only way to enjoy the outdoors here. Take a hike that winds through a stunning wooded area or to the top of a hill affording a breathtaking view when you're done. Hop on your bike and traverse miles of bike trails. Or head to Canyon Lake for a variety of watersports. They're just a few options in this recreational haven.
The land and homes
New Braunfels offers something for everyone, from Hill Country land for sale with custom homesites to smaller lots in favorite masterplans that are being embraced by everyone from young families to retirees who want the ideal lifestyle without the maintenance of acreage. For more information when you're ready to move to New Braunfels, visit Vintage Oaks.

New Braunfels masterplan Vintage Oaks is the fastest-growing community in the Texas Hill Country for the fifth straight year and the fifth-most active and successful community in all of San Antonio. It is also the No. 1 community in New Braunfels; the top-selling community selling homes from $350,000–$2,000,000; and No. 1 in large lot communities in all of San Antonio for housing starts. The Vintage Oaks masterplan features 1–14 acre properties in both gated and non-gated neighborhoods plus Quick Homes and new smaller-lot homes in its popular community of The Grove.
You can also see all featured Quick Move Homes bleow.