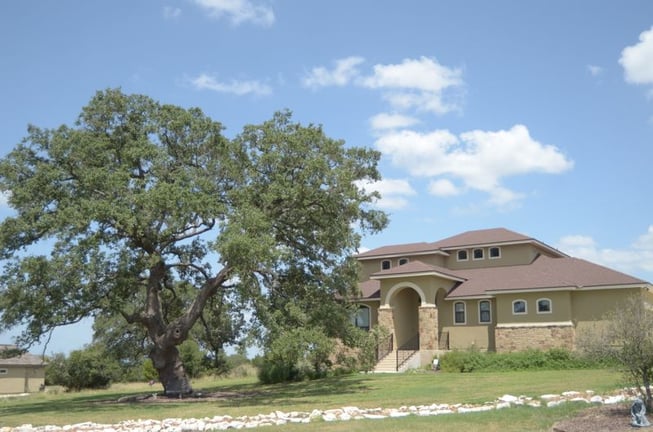 Wouldn't it be nice if you could just point to the house you want and have it pop up on the perfect piece of Hill Country land, all ready to move into? You can if there are Quick Move Homes available in the neighborhood in which you are looking. But if you're looking to build a home from scratch, with a floorplan designed just for you and all the features you envision, the process will be a little more involved. Knowing the important milestones to hit along the way will help keep you on track when building your Texas Hill Country home.
1. Set a budget
The first and most important step in any real estate transaction is to establish a budget since it will affect every other decision you make.
When considering your bottom line, think about adding in a cushion that can absorb higher costs due to changes that occur during the building process, and material must-haves.
2. Locate your land
Whether you are building a custom home or buying a semi-custom home, you have to figure out where you want to live. The expectations you have for your home may help narrow down options. A community with a long commute or one that caters to retirees when you're a young family may nix several options and leave you in a good position to make a great choice for the location.
When it comes to choosing your homesite, remember to consider the size so it will accommodate the home's square footage, as well as views, zoning, frontage, setbacks and easement issues, and gated neighborhoods or non-gated settings.
3. Choose a builder
Choosing a builder is critical because you are putting your home in someone else's hands. Make sure that builder is worthy by getting referrals from friends and family, as well as your realtor and the sales professionals in the community in which you are building. Then research them, looking for red flags like bad reviews. If you're building a semi-custom home, you may also have choice of several builders. Do the same research to make sure you are making the best selection.
4. Floorplan design
It's time for some of the fun stuff to begin. All those ideas in your head—and in your design file—can now be out to good use as you design your floorplan. You'll go over everything from your square footage to number of bedrooms and baths to architectural styles to the home's finishes in your design meeting. If you're building a semi-custom home, you'll choose between the pre-designed floorplans and then add your personal touches.
5. Lender pre-qualification
If you're not already pre-approved for your home, now's the time to talk to your lender. You'll want to do this before you sign your purchase agreement, which will act as your contract.
6. Sign off on house plans
Your completed house plans will include all the specifications of the home, including:
The floorplan
The elevations
The site plan
The foundation plan
Any other details such as appliance model numbers, and window and door sizes
If there is anything incorrect on the plans, now's the time to point it out.
7. Architectural Review Committee
Yours isn't the only approval needed. Your builder will submit the plans to the Architectural Review Committee (ARC) so they can look them over and make sure everything is sound and that the proposed home complies with the community's Covenants, Conditions and Restrictions (CC&Rs).
8. Site preparation
Getting the site ready may have started earlier in the process while you were finalizing plans, but now's the time to wrap it up so you can start building. The preparation includes clearing the lot of any trees that are within the home's footprint, doing rough grading, and staking the lot.
9. Pre-construction meeting
This is the last step before construction begins, During this meeting with your builder, you'll go over all of the home specifications and shore up final details.
10. Building begins
From the day the crew breaks ground on your lot, there will be a lot of action. First, the foundation and framing will go in. In the coming weeks and months, you can expect:
Installation of the mechanicals (heating and cooling, plumbing, and electric), insulation and drywall
Flooring and paint, cabinets and trim go in
Fixtures, appliances, and lighting are added
Any landscaping that is part of the home design goes in
11. Closing escrow
Once your home is finished, you'll do a walk through, inspecting the work and making sure everything meets expectations. Then, you can close and get your keys!
For more information, visit Vintage Oaks or click below to download our free Custom Home Building Guide.