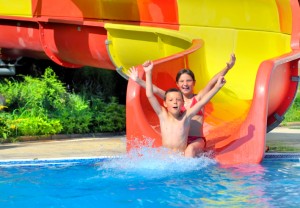 As if Vintage Oaks doesn't have enough options for entertainment, just down the road is the biggest and best water park in the world. The very first Schlitterbahn Water Park opened in New Braunfels in 1979, but has continued to be renovated and is now much larger with many more rides! As the park has grown, there are now two different sides to Schlitterbahn — the east side and the west side —, and there are free shuttles in between. The west side is the original and older side which features a signature German décor, while the east side is newer and features the very first uphill water ride. This water park is family-owned and family-friendly.
Schlitterbahn has over three miles to tube down, seven water playgrounds, seventeen water slides, the world's first surfing machine, and three uphill water coasters. It is the perfect family activity and it is ideal for a hot summer day in Texas to go and have fun on all the thrilling rides. Schlitterbahn is open from late April to mid-September. For the past thirteen years, it has won the international honor of being the world's best water park, and is the winner of the Golden Ticket Award. According to Amusement Today, Schlitterbahn claimed three of the top five slots for best water park rides. Schlitterbahn has even been featured on the Travel Channel! Some of the best rides include the Master Blaster, Dragon's Revenge, and the Congo River Expedition.
The park is situated on sixty-five acres and it is guaranteed that no one will be bored! Schlitterbahn is located in the town of New Braunfels and is located 10 miles from Vintage Oaks. There is simply nowhere else like Schlitterbahn in the world! Visit us at Vintage Oaks to learn more!
---
Well done and all the best!