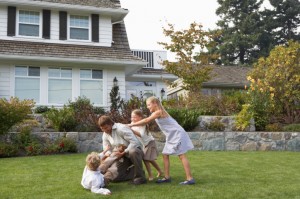 Have you ever considered living in the suburbs? When you were young, you may have wanted to stay in the city where all the excitement unfolded; but now that you are more mature, suburban life is becoming much more appealing. Located twenty-five miles outside of San Antonio, Vintage Oaks reaps the benefits of being a suburb of the second largest city in Texas. Suburban life is stereotyped as being much more relaxing and tranquil, but these are only two of the positive things enjoyed by people living outside of the city. In the suburbs, there is usually a lower crime rate, you are able to enjoy your yard, there is less traffic, there are better school systems, you are able to commute into the city, there is a sense of privacy, and people are usually friendlier.
At Vintage Oaks, you are situated in the heart of wine country, there is a sense of community, and you are often able to get a lot more square footage for your money. Vintage Oaks is a planned community that enjoys all of these benefits and even more. Vintage Oaks is surrounded by twenty-four local wineries, and is beginning construction on our very own land this year. In Vintage Oaks, you are also able to enjoy various outdoor activities that are simply not available in the city. There are miles upon miles of hiking trails, nearby white water rafting, and a golf course designed by some of the best golf professionals in the PGA.
The city of New Braunfels has a population of nearly 40,000 people, and its particularly busy downtown ensures that many of your needs are accessible from Vintage Oaks. San Antonio is a thriving city with many venues, anything you can think of, and it is just a short drive from Vintage Oaks. There are many positives when considering moving to the suburbs, and there is simply nowhere else like Vintage Oaks.