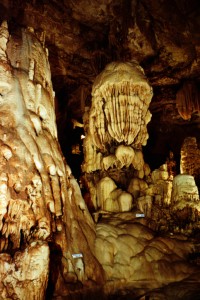 Just ten miles from Vintage Oaks are the largest caverns in the state of Texas, The Natural Bridge Caverns. To enter the caverns, you first cross underneath a natural limestone bridge that spans the amphitheater. The caverns house many cave formations, as well as many other special geological features.
The cave was first discovered in the 1960s by four St. Mary's University students from San Antonio. During their first venture into the cave, they discovered just a mile of passages into the trail. But during several return trips, they explored a couple more miles of trails deeper into the caverns. The landowner of the cavern property at the time was Mrs. Clara Wuest, and she wanted to share the cavern's discovery with the rest of the world. When Mrs. Wuest decided to fund the development of the caves, one of the students dropped out of school to help her make it happen. As a development crew began excavating the cave, they discovered many unique findings. They found arrowheads, spearheads dating as far back as 5,000 BC, and the jawbone and femur of a black bear—one that had become extinct more than 8,000 years ago! Even today, the cave is still being explored, with new discoveries yet to be revealed.
Natural Bridge Caverns first opened to the public on July 3, 1964, and is still run and operated by family members of the Wuest family. The entrance to the cave maintains a constant 70 degrees Fahrenheit, but as you proceed deeper and deeper in, the cave becomes cooler and cooler.
Inside you'll discover towering cave formations, emerald pools, crystalline straws, and many more natural formations that you really just have to see to believe. A visit to the Natural Bridge Caverns is a great opportunity to explore with your family. It's located just ten miles from Vintage Oaks, making it the perfect trip for an afternoon or weekend visit!