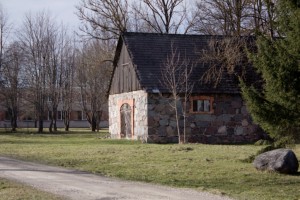 Just 25 miles from Vintage Oaks you can find the beautiful Sebastopol House and historic site. The Sebastopol House is an 1856 Greek revival-style home, registered in the National Register of Historic Places. What makes the Sebastopol House unique is that it was constructed using limecrete, a form of concrete. The Texas Parks and Wildlife Department purchased the Sebastopol House property in 1976 from Seguin Conservation Society and restored it, opening it to the public in 1989.
Sebastopol House is a split-level home, its floor plan a unique "T" shape. It was built by Col. Joshua W. Young and completed in 1856. The house was restored to as close to its period condition as was possible, decorated with the furnishings of a middle-class family. The Sebastopol House is one of the best surviving examples of early concrete in the Southwest. By 1890, in Seguin County alone there were ninety buildings made of limecrete, but fewer than twenty are still in existence today.
Joseph Zorn, Jr. inherited the house in 1874 from his builder's widowed sister and family, and he moved in with his young family. Zorn became the Mayor of New Braunfels in 1890, a position he would continue to hold for twenty years. Under Zorn's mayoral leadership, Seguin County secured water, electric, and even telephone privileges. The family members who survived Zorn continued to live in the house until 1952, and in 1960 the house was scheduled to be demolished. The Seguin Conservation Society purchased the house at that time and restored it. The home required serious structural repairs, so the Texas Parks and Wildlife Department purchased it to assist in preserving it as an historic landmark.
Today the Sebastopol House is open to the public and functioning as a historical museum, with both permanent and temporary exhibits. Each year, Sebastopol House hosts two special events: the Toast to Texas, and its premier event: The Mayfest!
Sebastopol House is just 25 miles from Vintage Oaks. It makes for a great family activity, whether you're taking a trip through history or simply enjoying the beauty and splendor of this beautiful home.