One of your favorite childhood memories was probably going to the zoo to see all of the rare and special animals. Just 36 miles from Vintage Oaks is the San Antonio Zoo. This spectacular zoo covers 56 acres, with more than 3,500 animals representing 750 different species. Each year, more than a million people come to tour the zoo and visit the animals.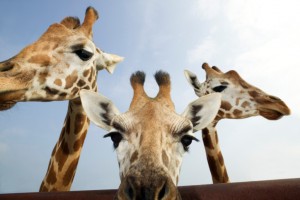 The San Antonio Zoo began in 1914 when Colonel George W. Brackenridge had bison, deer, monkeys, lions, and bears on the property. In 1929 the San Antonio Zoo opened its first cage-less exhibits. In 1948 the Richard Friedrich Aquarium was dedicated, and in 1966 the Hixon Bird House was dedicated.
The San Antonio Zoo became home to the first herd of Addra Gazelle and has become an active leader in propagation of this endangered species. The zoo is also home to many more rare species, including Black Rhinos, Leopards, Golden Lion Tamarin, Dama Gazelles, Attwater's Prairie Chicken, Black Mangabey, African Lion, Black-footed Ferret, Komodo Dragon, Andean Condor, and Caribbean Flamingos—to name just a few.
The San Antonio Zoo is open daily, every day of the year, from 9:00 a.m. to 5:00 p.m. The zoo's mission is to "foster appreciation and concern for all living things." Their focus is on caring for their animals, educating others, and appreciating the earth. Members get in free, adults are $10.00, and kids aged 3–11 are $8.00, with many more coupons and pricing options available. The San Antonio Zoo is the perfect local venue for taking your family on a day trip, a field trip for school, and or even just for a pleasant afternoon.
If you found this information useful, or if you think your friends might be interested in learning more about the San Antonio Zoo—or about nearby Vintage Oaks —please share our site with them!