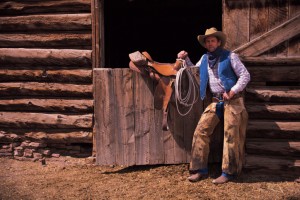 Sixty miles from Vintage Oaks in Bandera, Texas, you'll find the Dixie Dude Ranch. Dixie Dude Ranch is the perfect Western getaway where you can unwind, relax, and learn more about the culture of the West. Visitors come from all over the world to spend time at this wonderful place. Bandera, Texas is widely regarded as the Cowboy Capital of the World.
Dixie Dude Ranch is a classic, old-time working stock ranch dating back to 1901. It's situated on 725 acres, offering spectacular views of the world-famous Texas Hill Country. At Dixie Dude Ranch you can hike, excavate the land for fossils and arrowheads, and check out all the old barns and buildings. They offer horseback riding, swimming, fishing, hayrides, dancing, and many more Western activities. You can also enjoy overnight trail ride packages, where you'll adventure into the Texas Hill Country for three nights or more.
Dixie Dude Ranch is so well-known and admired that even the Today Show's Kathie Lee Gifford and Hoda Kotb visited in July.
If you're looking for a place to relax, escape from the city, and dip your toes into the world of the West, then Dixie Dude Ranch is the place for you. It's only 60 miles from Vintage Oaks, but you'll feel like you've truly escaped the modern world to a place where you can relax while you have some genuine Western fun.