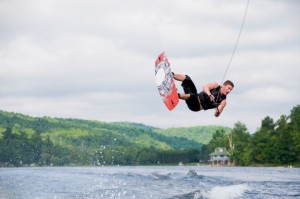 Texas Ski Ranch (TSR) is a complete, 70-acre action sports complex with something fun for every age and every ability. TSR is the only complete action center in the entire country. Here's just some of what they have to offer: cable waves, professional instruction in water skills, birthday party packages, a rock wall, sand beaches, a board shop, and the Coconutz Bar & Grill. TSR offers summer camps, where your kids can learn to water ski and master many other water sports, all under the direction of highly trained professionals. TSR just recently opened the Little Bro Cable by Rixen, a two-inline system where beginners can learn how to wakeboard. You don't even need a boat! Cable lines pull you along at a controlled, steady pace. So it's just you, your board, and the water. Whether you're a beginner or an old pro, Texas Ski Ranch has lots to offer you.
Texas Ski Ranch is the only licensed Mastercraft dealer in the entire state of Texas. Their massive retail store offers Liquid Force, Toms, Nike, Billabong, Foxx Racing, and Oakley—just to name a few.
Texas Ski Ranch is fun for the entire family. You can purchase and print your tickets online. They even have special pricing available in membership packages. TSR offers yearly membership dues, student semester memberships, a monthly membership, and even a weekly membership! (Anyone who participates in water sports at TSR must sign a safety waiver, and you are required to wear a helmet and a ski jacket, regardless of experience or ability.)
The spring and summer seasons are the busiest at Texas Ski Ranch. But they host events yearlong, even during colder seasons. In early October they host The Texas Fall Festival, with as many as 250 students in attendance. Every February 13th and 14th, TSR holds their annual Freeze Ride to launch the tournament season. Participants come in from all over the country to enjoy the kick off to water season!
You won't find any other family activity quite like Texas Ski Ranch. TSR provides fun in the sun perfect for a family outing. Texas Ski Ranch is just 13 miles from Vintage Oaks. Texas Ski Ranch offers a thrilling pace several notches above your relaxing and peaceful life on Vintage Oaks in the Texas Hill Country. The best thing about TSR is that they have something fun for everyone in your family. Texas Ski Ranch offers a great way for you to get your kids out to enjoy their summer vacation!