One of the coolest exhibits in all of Texas just happens to be nine miles down the road from Vintage Oaks: Natural Bridge Wildlife Ranch. Not only is Natural Bridge Wildlife Ranch the most visited Safari Park in the state of Texas, it's also more than a hundred years old. Originally founded as a basic cattle and goat operation, in 1984 the ranch opened to the public as a safari tour. The ranch features four miles of adventurous tour ways for exploring.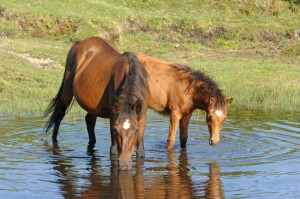 Natural Bridge Wildlife Ranch focuses on providing a safe, quality, healthy habitat for the animals, matched with a pleasant environment for visitors to enjoy seeing rare species. You can see much of what the park has to offer from the comfort of your own car, and still get up close and personal with the animals. Natural Bridge Wildlife Ranch has more than 400 animals, representing over 40 different species. You'll see rhinos, giraffes, zebras, ostriches, emus, bison, and deer, just to name a few. The park is situated on 400 acres, and the animals are free to roam in their natural habitat.
Admission is $16.50 for adults (ages 12 and up), $15.50 for seniors (65 and over), and $8.50 for children (ages 3–11). Natural Bridge Wildlife Ranch is open 362 days a year: every day except Thanksgiving Day, Christmas Day, and New Year's Day. (If you're unsure because of weather conditions such as rain or ice, please call 830-438-7400 to confirm the hours of operation.) Only fully-enclosed vehicles are allowed—no motorcycles or open-door jeeps. Pets are not allowed. (Check their website for more details.)
It's rare to have such a wonderful exhibit to visit. Rarer still is to have it just nine miles away from your home! That's what it means to live at Vintage Oaks. Natural Bridge Wildlife Ranch is a wonderful family activity—what's a better holiday trip than getting away and pretending you're on safari?