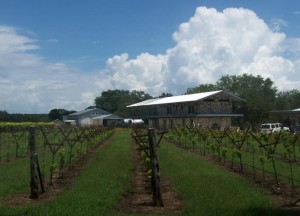 The Texas wine industry is more than 300 years old, and according to the Texas Wine and Grape Growers Association, Texas was the site of the first vineyard established in North America. Hundreds of years before vineyards were established in California, Franciscan priests around 1662 planted grapevines near modern day El Paso to produce grapes for sacramental wine.
The Texas Hill Country currently encompasses approximately 63 wineries, and 600 acres of wine grapes are located in the scenic area of limestone hills and majestic creeks. Without a doubt, the climate here in Texas is perfectly-suited for grape growing and wine production.
Here at Vintage Oaks, being in the middle of the romantic vineyard scenery seems to lend itself to truly living the "Vineyard lifestyle" to the fullest. In fact, mere yards away is Dry Comal Creek Winery – where their motto is "Life is too short to drink cheap wine!" Vintage Oaks residents can meander slowly through the vineyards and partake in a complimentary wine tasting any day of the week.
Construction will soon begin on our very own community vineyard at Vintage Oaks, which will feature Black Spanish Grape and a port wine, produced in conjunction with Dry Comal Creek Winery. In the near future, residents will be able to watch the grapes mature, and then to witness the entire harvesting process. It is said that Texas wine has a very distinctive taste that is remarkably different than wine that is produced in Napa Valley. But, you certainly don't have to be a wine connoisseur to indulge in the perks of vineyard living. Even the marvelous oak trees, rolling hills and colorful sunsets can be savored by anyone!
For more information on Vintage Oaks and the future community vineyard, please click here or call 800-303-6780.