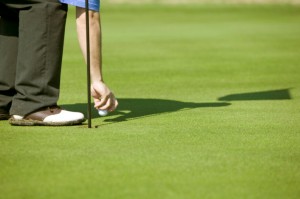 If you're a golf lover, New Braunfels is calling to you. The Landa Park Golf Course opened in 1938 in New Braunfels, originally as a nine-hole golf course. Landa Park Golf Course was designed as just one feature inside the greater Landa Park facility. The park already covered 196 acres, and then donated 61 acres specifically to add a golf course. In 1972 the golf course added an additional 52 acres, when it expanded into an eighteen-hole course. Landa Park recently added an entirely new fleet of golf carts, so you can enjoy a beautiful day buzzing around the property. If you'd like to golf the entire course, you'll need to allot about four hours.
The Landa Park Golf Course includes a clubhouse and a pro shop. The clubhouse offers a 19th hole grill, meeting rooms, and big-screen TVs. The golf course is open every day of the week, with tee times scheduled a week in advance.
Landa Park Golf Course features professional instruction, including both short and long game offerings. PGA Professionals are available to work with you on putting, chipping, sand play, target shots, lay-up shots, and tee shots. They can even teach you game management techniques, ranging on topics as diverse as how to mentally prepare for your game to how to manage a course.
Playing eighteen holes at Landa Park costs $18 for adults on weekdays and $22 on weekends. Cart rentals are $13 per player for eighteen holes. Senior specials are available, with $25 packages that include both green fees and a cart for 18 holes
Landa Park offers many organizations that you can participate in: New Braunfels Men's Golf Association, Landa Ladies Golf Association, Landa Legends Golf Association, Gold Age Golf Society, New Braunfels Elks, and the New Braunfels Eagles.
While living in Vintage Oaks is a great way to relax and enjoy your life on the vineyard, Landa Park Golf Course is always waiting for you just nine miles down the road. New Braunfels is packed with activities and special places to fire your imagination and keep you occupied.