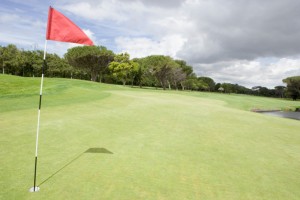 Another exceptional New Braunfels golfing option is the Canyon Lake and Golf & Country Club. Just nine miles from Vintage Oaks, the short drive to this wonderful golf course takes approximately 16 minutes.
Canyon Lake's course features well-manicured fairways; massive, beautiful oak trees; ample lake views; and, situated in the middle of Texas Hill Country, several large hills. Several holes have recently been renovated to challenge even the most experienced golfers.
Canyon Lake Golf Club offers many amenities, including the 19th Hole Restaurant, where you can enjoy great food after a relaxing day on the golf course. The 19th Hole even offers a full breakfast menu Monday through Friday from 7 a.m. to 11 a.m. Canyon Lake Golf Club has several dining options, tennis courts, a swimming pool, and beautiful lake views.
Canyon Lake Golf Club offers three membership options:
Full VIP membership. Grants use of the golf course, tennis courts, and pool. Unlimited use of the driving range, and discounted rates on all club facilities. VIP membership can be applied to families and to households with multiple adults.
Social membership. Allows use of all facilities at discounted rates. It is limited to one adult.
Junior membership. Offering discounted rates on all facilities, this membership option is designed with young adults in mind, primarily between the ages of 16–19.
(Please call (830) 899-3372 for pricing on these membership options and other offerings.)
Canyon Lake Golf Club is open every day during the summer. Winter hours of operation are Tuesday through Sunday. The golf shop is open during these same days from 7 a.m. to dusk.
Vintage Oaks is a spectacular place to live, a great lifestyle on the vineyard. Fortunately, anytime you want to get out and spend some time on the greens, you're be happy to be situated just nine miles away from two wonderful golf courses—Canyon Lake and Landa Park Golf Course page>Landa Park Golf Course!