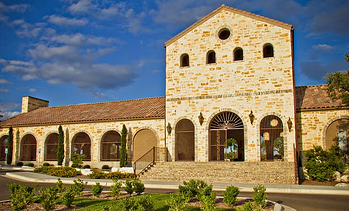 The Vintage Oaks at the Vineyard community is known for its majestic, 500-year-old oak trees and hill country sunsets. Soon, it will even be known as a popular spot for those who enjoy living the "Vineyard Lifestyle," with a community vineyard right in residents' backyards. But what most visitors may not know is that the property is also home to a gorgeous, Tuscan-style Amenities Center that houses both indoor and outdoor spaces for festive gatherings.
The Amenities Center rivals any four-star vacation spot, with a swimming pool complex, catering facility, spacious meeting rooms, dining area and a state-of-the-art fitness center that offers the latest strength and cardio equipment. The swimming complex even has a "lazy river" for cool, summertime lounging in the Texas sun. Just outside the Amenities Center, residents and visitors can even enjoy miles of walking, running, and biking trails that wind throughout the community.
For more information on Vintage Oak's renowned Amenities Center, or to learn more about available homesites, call 1-800-303-6780, or visit www.vintageoakstexas.com.