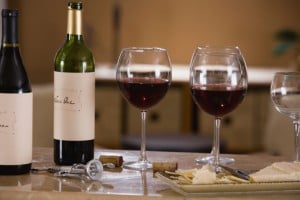 If you're considering life at the vineyard on Vintage Oaks, here a just a few of the basics you might like to know about wine:
What is wine? Wine is simply fermented grape juice. As the grape juice ferments, yeast begins converting the sugar in the juice into alcohol as part of a natural process. To yield different choices of wine, precise strains of yeast are carefully selected by the vintner. After the quality of the grape, the yeast is the key.
What determines a wine's color? In most cases, green grapes make white wine, and red grapes make red wine, although red grapes can also make white wine. This is because the inside of red grapes is actually white. (What turns the wine red is the skin.) Each wine is named after its respective grape. For example, Cabernet is a larger grape than Gamay.
How is wine made? After harvesting, a disinfectant is used to clean the grapes and remove any toxins. Then the grapes are crushed and left to ferment in a lengthy, complicated process that contains the juice in vats or wooden barrels, where it will be maintained at precise temperatures over a long period of time. For most vintages, the more time the wine can spend in the barrel, the better.
White wines are typically judged based on both taste and aroma, with various whites being classified as either sweet or dry. Of course, all of these are the simplest, most basic facts about wine. Making wine is a complex, nuanced art form that has been evolving for literally thousands of years. Because of its lengthy heritage and tradition, the best wines still come from Europe. However, American wines have been gaining in recognition and favor, particularly those originating from Texas Wine Country. California wines tend to be fruitier, with Texas wines offering a bolder, more sophisticated taste.
Situated in the heart of Texas' premier wine country, Vintage Oaks knows wine. Living directly on a vineyard gives you easy access to many activities designed to help you learn about and appreciate a wine lifestyle. Our planned vineyard is a growing work in progress, with tours available. We even host an annual grape stomp, allowing anyone over the age of thirteen to compete! We invite you to come learn about all that life on a vineyard can offer you in the beautiful Texas Hill Country.