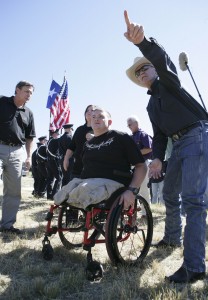 Please join us for a heartwarming holiday event where Senior Airman Colton Read and his wife, Jessica, will break ground on their new home at the Vintage Oaks at the Vineyard community. Colton lost both of his legs during a routine gallbladder surgery that was required of him in order to deploy to Iraq. His harrowing story made a happy turn in September, when Southstar Communities, Jimmy Jacobs Custom Homes and other business donors honored his family through Operation FINALLY HOME with a mortgage-free home and land at Vintage Oaks.
Join the family as they officially break ground on their new home, with holiday festivities to follow the ceremony. Please note food and drink will be provided at the holiday festivities located at the Vintage Oaks Discovery Center after the ground breaking ceremony.
WHEN: Friday, December 17, 2010 at 2:30 p.m.
WHERE: Vintage Oaks at the Vineyard
1110 Vintage Way
New Braunfels, Texas, 78132
Event takes place at the Reads' new homesite. Turn onto Vintage Way from Hwy 46 into the neighborhood. Turn right on Appellation and follow the signs to the homesite.
RSVP: april@nunezprgroup.com