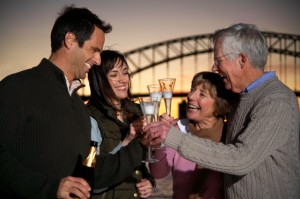 Have you ever been in a restaurant or out with friends, and when the wine came you weren't exactly sure what you were supposed to do? Here are just a few tips to help you navigate the complexities of proper wine etiquette:
Restaurants. When faced with the decision in a restaurant of which wine you should order, your goal is to select a wine that will pair well with the particular food that you're ordering. If the entrée orders around your table are all similar (everyone's having steak, for example), you might consider purchasing a bottle. However, if each individual orders something very different, then individual glasses would probably be the best choice. Never be embarrassed to ask for suggestions from your server. Most wait staff at restaurants offering a comprehensive wine list have been trained on how to recommend flavors that will pair well with your food.

If you and your friends are sharing a bottle, your server will return to your table with your wine selection and present it to you, label forward. This is your opportunity to examine the bottle for the name and year of vintage, to acknowledge that what you requested is indeed what they have brought. After the server has poured the wine, they will stand holding the bottle, waiting. You are to swirl the glass gently a few times (to allow its contents to spread evenly), smell the wine to draw its vapors into your nasal cavity (a step which enhances its flavor in your mouth), and at last, to taste it. When you signal the server that you approve of the wine, they will pour for the rest of the table— ladies first, of course!
Corkage. Occasionally, you may come into possession of a bottle of wine that is both rare and unique enough that you decide to enjoy it with a nice meal out. It's only acceptable to bring your own bottle if the restaurant does not have it in their wine list. If you are planning to bring your own bottle to a restaurant, there are a few steps you must take to prepare in advance. First, you should always call the restaurant to confirm that it's acceptable to them for you to bring your own bottle. During that phone conversation, you also need to ask about their corkage fee, a service charge to (a) allow you to bring your own wine, and (b) the server to properly uncork your bottle for you during your meal. (Rarely should a corkage fee be more than $20). Once in the restaurant, proper wine etiquette dictates that once the server has poured your wine, you offer them a taste. As you prepare to pay for your meal, consider what it would have added to your ticket to purchase wine from the restaurant, and base your tip upon that amount.
Tasting Room. Vintage Oaks, like most wineries, will have a specific "tasting room," a designated spot where visitors may sample available wine offerings. White wines are typically offered first for tasting, followed by reds, and finishing with dessert wines. The sequence will also take body into account, with the lighter-bodied wines coming before the fuller-bodied ones. In between each wine tasting, the winery staff will likely offer you water and crackers to cleanse your palate. You do not have to finish each class of wine; the tasting room will have jars or some other container designated for disposing of your leftover wine. Do not feel obligated to test every wine that is offered to you, either. Try only the ones that honestly appeal to you. While it is acceptable to ask for a second taste of a particular wine, if you do so, you really should make a purchase. Most wineries will not require that you purchase an entire bottle, but particularly if you ask for more, you should consider purchasing something. Wine tasting is offered as a courtesy by the vineyard to afford you to opportunity to "try before you buy." This service is costly to them; common courtesy therefore dictates you do your part to hold up your end of the exchange.
If you found this information helpful, or if you know someone who might benefit from it, please share this with them. We would love to hear from you! Please connect with us on Facebook and Twitter to learn about Vintage Oaks' upcoming events and specials in the Texas Hill Country!